Neil Robertson advances at International Championship
Last updated on .From the section Snooker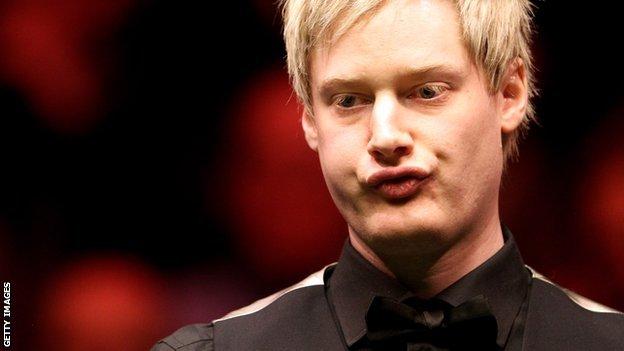 Neil Robertson advanced to the second round of the inaugural International Championship in Chengdu before revealing a passport mix-up almost cost him his place in the tournament.
The Australian, who lives in England, had visa problems and nearly missed the £600,000 world ranking event.
The 2010 world champion said his passport only arrived 30 minutes before he left for his flight to China.
"The past week has been a nightmare," he said after beating Ryan Day 6-3.
"I just had to hope that when I arrived they would give me a visa," he added.
"Luckily World Snooker helped me a lot and I was able to provide all of the supporting documents to prove that I am a snooker player and I was going to the biggest tournament in China.
"As it turned out, the immigration staff in Shanghai all knew who I was and wanted pictures with me.
"I was there for about five hours, then I was given the visa and was able to fly to Chengdu. Obviously it was not ideal preparation so I'm just really pleased to have played well and got the result."
Shaun Murphy, another former world champion, described the new tournament as the "fourth major" on the snooker calendar.
The 30-year-old Englishman needed only 89 minutes to secure a spot in the second round, seeing off compatriot Andrew Higginson 6-0.
"In terms of ranking points and prize money it's on a par with the UK Championship, so it can be seen as the fourth major," he said.
Meanwhile, 14-year-old Lu Haotian of China came from 5-2 down to beat Michael White 6-5 in their wildcard match.
White, who hurt his ankle playing tennis on Saturday, competed in his socks in an attempt to minimise the pain.
Lu will progress directly into the second round after receiving a first-round bye following Ronnie O'Sullivan's decision to pull out of the tournament.
Veteran Ken Doherty was also beaten by youthful Chinese opposition, the Irishman losing 6-5 to 15-year-old Zhao Xintong.