Judd Trump beats Peter Ebdon to become world number one
Last updated on .From the section Snooker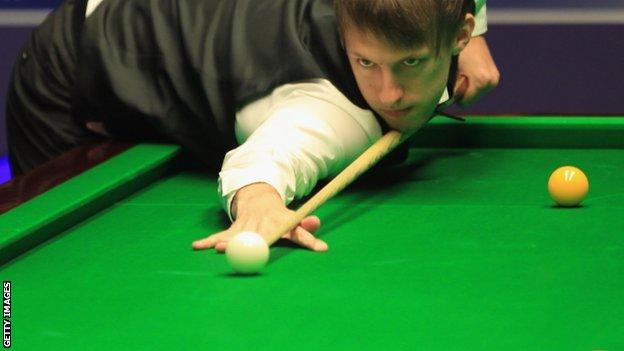 Judd Trump moved top of the world rankings by thrashing Peter Ebdon 9-1 to reach the final of the International Championship in Chengdu, China.
The 23-year-old from Bristol raced to a 7-1 lead against an out-of-sorts Ebdon, then finished the job in the first two frames of the evening session.
"It's a proud moment to get to number one," said Trump. "It's been a long road to get there."
Trump will meet either Neil Robertson or Shaun Murphy in Sunday's final.
"It will be tough either way in the final. I've got a better record against Shaun and it might be a more free-flowing game against him," Trump told the World Snooker website. "The way I feel, I fancy beating both of them."
The first staging of the tournament in Chengdu, China carries a winners' cheque of £125,000.
Trump needed a final-frame decider to edge out fellow left-hander Mark Allen in Thursday's quarter-finals, but was ruthless against China Open winner Ebdon, who received an early warning from the referee for conceding a frame before needing snookers.
Ebdon cut Trump's lead to 3-1 with the only century break of the match but Trump chipped away by punishing his fellow Englishman's many mistakes with seven breaks of 50 or more.
"Peter didn't play his natural game. At the start of the match he was trying to put me off and put me out of my rhythm," added Trump.
"I told myself before the match to stay patient and wait for my chances. In the end he bogged himself down for the first couple of frames.
"Then he made a century in reasonable time. When he plays his normal game instead of trying to slow people down he's a better player."
Ebdon briefly threatened a fightback in the evening session, but missed a regulation red in the ninth frame to let Trump in for a clearance.
Then, with a run of 63, Trump ensured he would become only the 10th man to hold top spot since the rankings began.