Judd Trump beats Robertson in International Championship final
Last updated on .From the section Snooker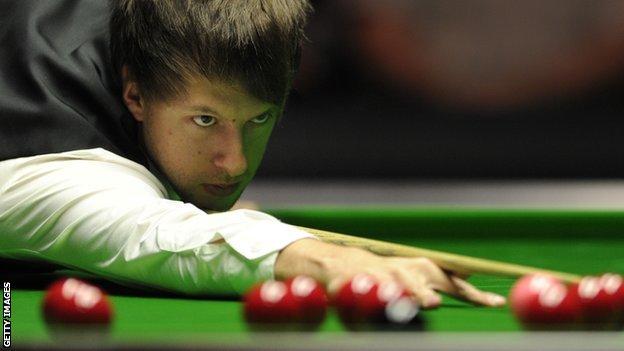 New world number one Judd Trump beat Neil Robertson in a thrilling final to win the inaugural International Championship in Chengdu, China.
Australian Robertson led 5-4 at the interval and looked to be in control when he extended his advantage to 8-6.
But breaks of 96 and 119 helped Trump turn the contest around and the 23-year-old from Bristol took his third ranking title with a 10-8 victory.
"I felt good in the last four frames and played good snooker," said Trump.
"It has been a great week," he told World Snooker's official website. "I dominated a lot of matches during the tournament, then in the final I felt the same but missed a few balls and that's why it was so close.
"I have got used to dealing with the time difference when I come to China now. I used to get worried if I couldn't sleep at night, but now I've realised it's better to just sleep when I am tired.
"I get so much support here and that makes me happy. Hopefully I will come back here next year and win it again."
For Robertson, it was only a second defeat in eight major ranking finals.
"In the first session I felt I could have been 6-3 up," he said. "Then tonight I played a few great frames to go 8-6. I felt in control then and I felt I was going to win.
"In the next frame Judd got a couple of bits of luck, otherwise I might have gone 9-6. But from 8-7 I hardly got any chances and he made some fantastic breaks.
"Overall I've got to be really happy to have got to the final. I know I can play well in China now."
The former world champion had reached the final with a 9-5 win over Shaun Murphy on Saturday, while Trump had secured his place at the top of the world rankings with a 9-1 demolition of Peter Ebdon a day earlier.
But it was Robertson who started more brightly, opening up a 4-2 lead after the first four frames had been shared.
Trump levelled, only for Robertson to edge ahead at the end of the afternoon and, after Trump started brightly in the evening, his fellow left-hander looked to have established a decisive lead with runs of 68, 88 and 73.
From 8-6 down, though, Trump proved his mettle, taking a vital 15th frame then reeling off two huge breaks at the perfect time to move within one of the title.
When Robertson failed to advantage of an opening in the 18th frame, a superb red and pink set Trump on the way to victory.