Stephen Hendry: Ronnie O'Sullivan loss a blow to snooker
By Shamoon Hafez
BBC Sport
Last updated on .From the section Snooker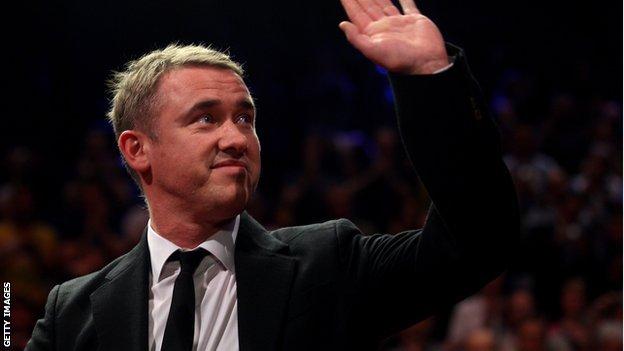 Seven-time world champion Stephen Hendry says Ronnie O'Sullivan's decision to pull out of the 2012-13 season is a "massive blow" for snooker.
O'Sullivan announced he would be withdrawing from the rest of the campaign because of "personal issues".
"In snooker we have very few superstars and Ronnie was a superstar. The crowds that came to watch him were larger than for any other player," said Hendry.
The Scot now expects Judd Trump to be number one for the next 10 to 15 years.
Hendry told BBC Sport: "The likes of Trump, John Higgins, Mark Selby and Mark Williams will be rubbing their hands now that the world champion, the best player in the world, has decided not to play again. It has certainly made their job a lot easier."
Reigning world champion O'Sullivan announced he would be taking a six-month sabbatical from the sport after winning the title in May.
Having signed the players' contract in August to end his self-imposed exile, he was expected to play at the inaugural International Championship in China earlier this month but withdrew on doctors' advice.
The 36-year-old Englishman has since revealed he will not be taking part in the remainder of the snooker calendar.
Hendry retired from the sport in May after a heavy 13-2 defeat to fellow countryman Stephen Maguire in the quarter-finals of the World Championship.
The 43-year-old, who says he should have quit the sport earlier than he did, won 36 ranking event titles during his career - the last being the Malta Cup in 2005.
Although he supports O'Sullivan's choices, Hendry was shocked by his old rival's decision not to compete in the major events.
"I hope we see him back playing one day because he is the best player in the world. There is no doubt he will go down in history as one of the best players of all time," said Hendry.
"But I am surprised by his decision because he won't play in the UK, Masters or defend his World Championship - the three blue riband events.
"He has achieved everything he wanted to achieve and has nothing to prove. If he doesn't pick up a cue again then nobody can take away what he has done in the game.
"Like I found as well, if you are not enjoying the game, then don't play. The most important thing for a person is their health and enjoyment of life."
After winning the International Championship in China last week, Trump replaced Selby as the sport's world number one.
Hendry held top spot for nearly a decade during the 90s and feels the 23-year-old Bristol man is now there to stay.
He said: "I loved raising my game and keeping others down, and I am sure Judd will be the same - he will want to stay there now and not give up his number one ranking.
"It is a great time to be Judd Trump. He is world number one, full of confidence and he seems to be enjoying the game, his life and is a young, single guy who can travel around the world and play in tournaments. He has age in on his side.
"The likes of Higgins and Williams are in their mid-30s now, they will not be playing forever. I don't really see any younger players who will be regular tournament winners. I just don't see where the challenge to Judd is going to come from."