Snooker tour's Scottish leg welcomed by Dott and Campbell

By Keir Murray
BBC Sport Scotland
Last updated on .From the section Snooker
Two of Scotland's top snooker professionals hope the return of a ranking tournament will boost the profile of the game in their home country.
Former world champion Graeme Dott and world number 27 Marcus Campbell will take a break from travelling around the world to earn prize money and ranking points when World Snooker stages a Players Tour Championship event at Ravenscraig Regional Sports Facility from 13-16 December.
The Lanarkshire tournament will be the first World Snooker event in Scotland since the 2010 World Open at Glasgow's SECC.
Dott, the world number 13, told BBC Scotland: "It's about time we had a tournament in Scotland.
"It's for small ranking points and the money is not as big as other ranking tournaments.
"But we hope to get a full-blown ranking tournament back here so a PTC is a good place to start."
With Wishaw's John Higgins and Glasgow's Stephen Maguire in the top 10, and Dott and Stephen Hendry major figures in snooker, one could be forgiven for thinking that the game in Scotland has an endless supply of top talent.
But Dott and Campbell warn that the sport must work hard to attract new players and fans.
Campbell, speaking at the Minnesota Fats club in Glasgow, said: "The way Scottish snooker has been the last few years, there aren't as many players coming through as there used to be.
"I think it's important to have a tournament in Scotland that the younger ones like Michael Leslie, Scott Donaldson and Anthony McGill can feed off, and even the ones under them might think about going to play snooker again.
"I don't know anybody who is coming through in Scotland.
"They seem to have lost the numbers for the junior ranking events. I think there are only 12-14 whereas when we played there we used to have 60 or 70 players.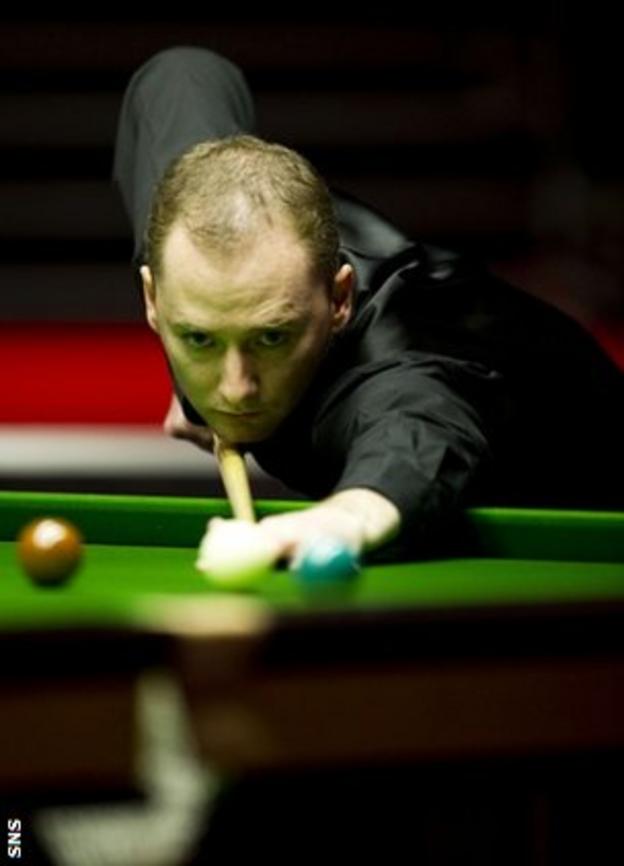 "It would be good to try to get that back again, and by having a tournament here it creates a bit of interest."
While Dott and Campbell hope to see a resurgence in Scottish snooker, there is little doubt that China offers World Snooker an attractive new market.
Of the 10 main ranking events, five are being staged there: the Wuxi Classic, the Shanghai Masters, the International Championship in Chengdu, the Haikou World Open and the China Open.
Closer to home, Scottish snooker fans will be able to watch their players in a format that may be unfamiliar to some.
The giant sports hall at Ravenscraig will be transformed into an arena housing one televised table and 10 other tables. Spectators will be permitted to move around the matches between frames.
Dott believes the set-up will appeal to the fans and insists their movement between games will not upset the players' focus.
"The fans are getting their money's worth. If one game is no good they can go and watch another," said the 2006 world champion.
"We are used to it now because all the PTCs are the same, so it doesn't bother us as much."
For Dott, also a Crucible runner-up in 2010, the proximity of the venue to his Larkhall home is a welcome change - it means he can see more of his young children.
"We don't practise as much as we used to when there were only six or seven tournaments," he said.
"Now we are away constantly, which is good but it is hard when you've got a family.
"It is turning into a single man's game. It's OK for the Judd Trumps and Shaun Murphys, guys who haven't got a family.
"It's hard when you've got kids, you've got to pick and choose which tournaments you want to play in."
Admitting to a fear of flying, Glasgow's Campbell is looking forward to a half-hour's drive to the tournament, and is very much in favour of the new formats and events being devised by World Snooker's high profile chairman.
"Barry Hearn is chopping and changing. I think he is doing a great job," he said.
"He is trying everything to get the popularity of the sport back to what it should be so I think it's a great thing.
"I am a great fan of the shorter formats and mixing it up.
"The PTCs are very difficult. I don't think there is as much pressure on the so-called lesser players when they are playing the top players.
"The results are a mixed bag which is good for viewing figures."