Mark Allen: New measures are 'bordering on dictatorship'
By Shamoon Hafez
BBC Sport
Last updated on .From the section Snooker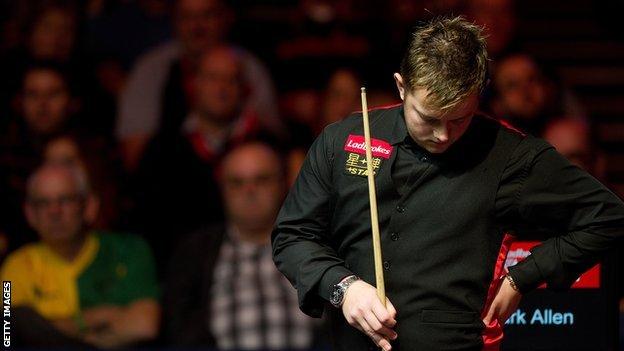 Northern Irishman Mark Allen says the measures imposed on players regarding their behaviour is stifling the characters in snooker.
"I understand why measures have been brought in but it is bordering on a dictatorship," Allen told BBC Sport.
"You need to have characters in the game but it is difficult for players to show their true personalities."
The world number eight, 26, was fined £10,000 and given a three-month suspended ban after his 10-6 defeat in the first round at the Crucible to Cao where he accused his opponent of dishonesty after failing to declare an illegal push shot.
"I have been criticised for it [speaking out] in the past, but I have always had an opinion. If more people did have an opinion, it would be better for the game in the long run," he said.
"I don't regret the comments I have made, but the way I have made them. It was unfair of me to label all Chinese players as cheats but dishonesty in snooker is something that needs to be stamped out."
Earlier this year, the governing body of the sport handed out a two-year ban to Joe Jogia after finding him guilty of breaching betting rules. They also suspended Stephen Lee pending investigations into suspicious betting surrounding a Premier League match and match-fixing allegations made back in 2010.
At the time of imposing Allen's ban, World Snooker said it would only come into effect if Allen made any new breach of rules within six months, which comes to an end in December.
However, the threat of a suspension from the sport and another heavy fine has not deterred the World Open champion from wanting to air his opinions in the future.
"Once that [suspended ban] finishes, I will have a few more things to say," he explained.
"Some stuff has happened in the last few months that I don't think is very good and not fair on certain people so no doubt I will be a spokesperson for the players.
"There are definitely things I want to say but I need to get them out in the right way. I am itching to say these things."
Allen begins this year's UK Championship campaign on Sunday with a first-round match against Hong Kong's Marco Fu, and will be looking to go one step further than last year when he lost 10-8 in the final to Judd Trump.
Trump, 23, has since gone on to become the sport's world number one and, along with Allen, they look to be ones to take snooker forward after Stephen Hendry's retirement and Ronnie O'Sullivan's decision to withdraw for the remainder of the season.
Allen is hoping he can emulate the success of the Bristol-born potter, and wants to strike up a competitive rivalry between the two.
"I am trying to build a rivalry now between myself and Judd. I don't deserve that at the moment but if I keep going the way I am doing, then it could be one of the great rivalries of snooker," said Allen.
"It is up to myself and Judd to push ahead and do that now. He is world number one and it is up to me to catch him and get the rivalry going.
"Players like John Higgins and Mark Williams may not have too long left at the top now so me and Judd need to create a legacy for ourselves."