Mark Allen: Stephen Hendry and Ronnie O'Sullivan badly missed
Last updated on .From the section Snooker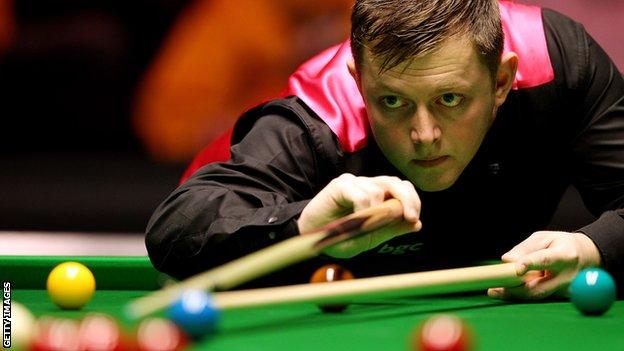 Mark Allen says the retirement of Stephen Hendry and Ronnie O'Sullivan's decision to take a break are major blows to the sport.
But the Northern Irishman hopes his burgeoning rivalry with world number one Judd Trump can revitalise interest.
"The crowds haven't been the same [since the loss of the pair] and there hasn't really been that same buzz around the tournaments," he said.
Allen, 26, faces Marco Fu in the first round at York's Barbican Centre.
The 2011 UK Championship runner-up, who recently described measures introduced covering the behaviour of players as "bordering on a dictatorship", said fans are missing seven-time world champion Hendry and crowd favourite O'Sullivan.
"I think Stephen's a bigger miss to the game than Ronnie, but from the financial side Ronnie is the big draw and I think the tournaments have suffered because of that," he added.
"Not a lot of people have talked about him (Hendry) not being at the events. I think Ronnie has helped in that.
"Stephen has got off lightly because he's a big, big miss to the game, and one that I personally miss a lot.
"He probably doesn't see me as a friend but I see him as a friend.
"He's given me a lot of good advice over the years and - he won't like me saying this - as a father figure. He's the person I've always looked up to in the game."
Allen lost a thrilling final to Trump last year but he insists it is up to everybody in the sport to keep people interested.
"I think it's down to everyone. It's hard to single out myself or Judd," he added.
"We just play. I don't think Judd goes out there to do anything different to what he would do in practice and it's the same for me.
"The crowds seem to enjoy watching me play. Snooker's in good hands but it's still going to take time for it to recover from there being no Ronnie or Hendry factor."