Mark Selby: Jester from Leicester conquers confidence demons
By Owen Phillips
BBC East Midlands Sport
Last updated on .From the section Snooker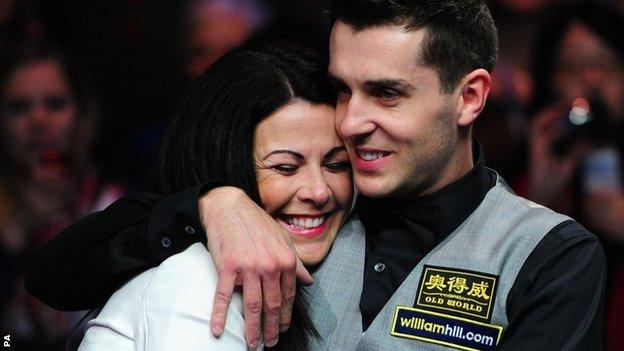 Mark Selby's first victory in one of snooker's "Big Two" was always going to feel special.
Although the 29-year-old can make light of a problematic 2012 now, there was nothing funny about the 'Jester from Leicester's' career-threatening neck injury, loss of confidence, loss of form and even the effect it was having on his home life.
His road to victory in York, which also saw him regain the world number one ranking he lost in November, has certainly been testing.
"I had a disc bulge in between the vertebrae which, when I was tilting my head back, was pressing on the nerve and causing pain," Selby told BBC Sport.
"It was tough. I couldn't really practise for the first few months because I couldn't physically get down to play. And mentally it was big blow because I wasn't practising."
Last week's triumph in York - the biggest win of his career to date - seemed highly unlikely when the out-of-sorts and injury-plagued Selby was dumped out of the World Championship by Barry Hawkins in the first round in April.
Selby conceded he was not at his best at the Barbican but his matchplay snooker was a marked improvement on previous events.
He explained: "I was going into tournaments with no confidence and had to pull out of China halfway through, and then I went to the Worlds without that much of a chance. The Worlds are the pinnacle of our sport so going there only 50% fit was tough.
"At one point I didn't know whether I would play snooker again. Confidence-wise the injury knocked me about for a few months and that showed in the way I was playing.
"The mental side of it is probably 90% of the game. There are hundreds of players who can make century breaks and 147s, but not everyone seems to produce at the top level and that is down to the mental state.
"But I managed to get through the other side. The last two months I seem to have got my confidence back and it's nice to finish the season being world number one and UK champion as well."
The physical impact of the injury, which Selby said could simply have been caused by "sleeping funny", only tells half the story. His wife Vikki says dealing with the injury and the knock-on effect was a "real struggle".
"He was depressed at not being able to play. It was awful," she said. "He was a nightmare to live with!"
Workaholic Selby cannot disagree.
"Even now when the pain has gone she says that," he jokes. "But because I wasn't performing as well as I could, I was really down and bringing my work home and snapping at Vikki.
"I am quite fortunate in that she used to play pool herself. She has been like a rock to me and has been for years. If it wasn't for Vikki I don't think I would have got my confidence back to win the UK.
"She understands what I am going through so can relate to it - as does having lots of good people around me.
"You just have to keep believing - as hard as it is when you keep losing.
"I know I am going to go to work and will have bad days but I find it very hard to accept because I want to achieve so much and want to win so much.
"But you just need to accept it; as hard as it is not to take it back home, you need to try to separate the two."
Selby plans a well-earned break from tournaments over Christmas before attempting to win a third Masters title early next year.
How much Selby rests is probably open to debate. He normally practises six days a week for five or six hours a day.
But his return to form and the fact his injury has "more or less" cleared up means he will not be heading into 2013 short of self-belief - even if he does allow himself a decent festive break.
"I have managed to win two of the main three competitions, but the Worlds still eludes me and hopefully I can add that to the list next year," the 2007 Crucible finalist said.
Replicating the sort of success that legends Steve Davis and Stephen Hendry enjoyed in the 1980s and 90s is never likely to happen now given the sport's strength in depth.
But Selby relishes the challenge.
"The standard is as high as it has ever been," he said. "I do believe that's due to the PTC (Players Tour Championship) events. Last year we had 12, six in the UK and six in Europe.
"This year we only have 10 but a lot of the lower-ranked players, who are still top-class players, are playing the likes of John Higgins and Mark Williams more often and when they play them live on TV they are not scared anymore. That fear factor has gone a little bit."
And Selby insists his ambition and hunger remains.
"I still love the game as much as when I started," he said.
"As long as I can keep competing at the top level and keep winning tournaments that will always be the case. It will be difficult to keep that motivation when my standard has slacked off and I am losing to players I feel I should beat."
That was the turning point for Selby's idol, seven-time world champion Hendry.
The Scot retired last year after a glittering career which saw him win 36 ranking tournaments. Selby has plenty he still wants to achieve, and wants at least one World title before he calls it a day.
"Until I win the Worlds," he says before quickly adding. "If I do...."