Women's World Cup 2013: Charlotte Edwards prepared

Last updated on .From the section Cricket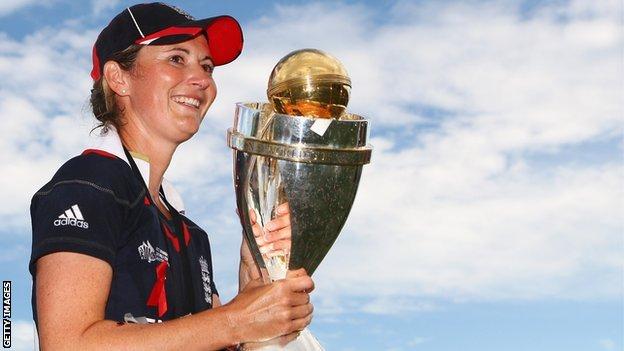 England captain Charlotte Edwards believes she is yet to reach her full potential as she prepares to play in her fifth Cricket World Cup.
Edwards skippered England to victory in the tournament four years ago.
"I want to just keep getting better as a cricketer, and at the moment there's everything there for me to get better," said the 33-year-old.
Edwards, who played in her first 50-over World Cup as a teenager in 1997, added: "I don't want to walk away from that because I still don't think I've reached my potential.
"I'm fitter than I was when I was 25 and I envy the young girls coming in to women's cricket at the moment because they have so many opportunities, they have so much education."
She believes her job with the Chance to Shine charity has enabled her to make a huge leap forward because she concentrates purely on playing and promoting cricket.
Although Charlotte says she has deep respect for the history of women's cricket, it is clear the game has changed dramatically during her career.
In her first England match, the players were still wearing skirts, now they have reached a point where women are being invited to train with male professionals.
Edwards knows she will never make vast sums from her sport, as prize money in the women's game remains tiny. But she has been able to make cricket her career, and that was always her ambition.
''I've seen a huge curve in my cricket and that's purely because I've got time to practice. I've got time to be the best player I can possibly be and as much of a full-time cricketer I can be," she said.