Snooker split over Barry Hearn revamp plans for top 16 players
Last updated on .From the section Snooker114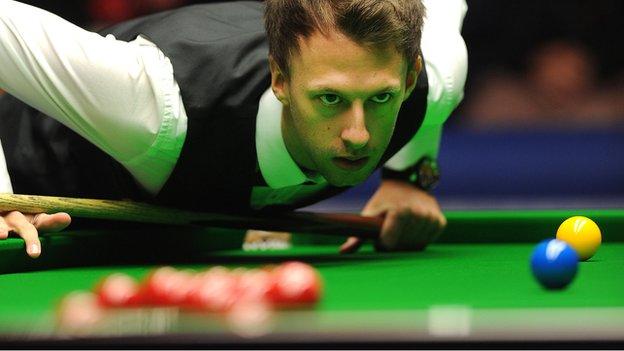 Snooker players are divided over plans which mean the world's top 16 players will no longer be guaranteed a place in the latter stages of most ranking events.
From next season, all 128 professionals will be required to play from round one in eight major tournaments.
Supporters of the move say it is fairer and gives new players a chance to shine, but opponents believe it hurts the game's elite and could mean stars missing the televised stages.
"It has split the views of players, commentators and analysts. It boils down to whether you think you have worked hard so you deserve to be further through in an event, or whether that is unfair," said six-time world champion Steve Davis.
Here we examine the revamp which will see snooker's minnows take on the world's best players.
What is proposed?
Ranking tournaments are used to decide where a player stands in the world.
Those rankings are currently decided by a points system but will be based on prize money from the 2014-15 season.
Up until now, the top 16 players have automatically gone through to the last 32 stage of the big competitions.
But from next season, they must start in the first round of eight tournaments, along with all 128 professionals in an expanded tour which has risen from 96 pros.
"What I can compare it to is Usain Bolt, who is the number one sprinter in the world but does not start halfway down the track," said World Snooker chairman Barry Hearn.
"It's a challenge to the top 16 to say: if you really are top 16, you shouldn't have any problems with starting the same as anybody else."
It means top players like Judd Trump, Mark Selby, Neil Robertson and John Higgins will face much lower-ranked opponents in venues where eight matches at a time could be taking place.
Which tournaments are affected?
Hearn told BBC Sport the new format will be introduced in June for the first big competition of next season - the Wuxu Classic in China.
Eight of the 11 ranking tournaments - aside from the World Championship, Australian Open and Shanghai Masters - will be covered.
Hearn said he expected those three to be included the following year when new contracts with broadcasters and sponsors kick in.
"The decision was made after consultation with the WPBSA (World Professional Billiards and Snooker Association)," said Hearn, who took a 51% controlling interest in World Snooker three years ago.
"Whether they like it or not, the players are going to be taken to the promised land because Moses is driving the flock forward at ever-increasing speed."
The Masters, which was won by Mark Selby for the third time on Sunday, is not a ranking tournament and will remain an invitation-only event.
What's the financial effect?
Elite players currently get prize money even if they are knocked out in their opening match, but that is about to change.
"The principle will be you have to win at least one game before you get any prize money," said Hearn.
"At the moment a top-16 player is guaranteed about £65,000 annually before he takes his cue out of his case.
"If you have a ranking system based on prize money, that's a hell of a start. Under the new system, if a player makes the last 16 in each tournament, he will be guaranteed about £90,000."
Hearn says the total prize money in snooker has risen from £3.5m to £8m in three years. Critics say there are far more tournaments, greater travel involved (five ranking events are in China) and less money in some competitions and for highest breaks.
In the two years to November 2012, every player in the world's top 32 earned at least £100,000 in prize money, but no-one ranked below 48 won more than £50,000 during that period.
Where do qualifiers take place?
First and second round matches are likely to take place away from the TV cameras in large halls which can accommodate several matches, because of the sheer number of people taking part.
"They will happen somewhere close to the competition venue. There may be limited tickets available for the public," said Hearn.
"They might be in a badminton hall and there could be eight or nine matches going on at the same time."
World number two Judd Trump is not keen on going back to basics.
"I don't particularly want to be playing in front of five people again. The reason I practised so hard was to get out of that," he said.
BBC commentator John Virgo believes playing in smaller venues could be a disadvantage for the best players.
"The better players need to be out there in front of a big crowd, the TV cameras, with the adrenaline going. That is a test for any player to be able to do it on the big stage," said Virgo.
How does the draw work?
Players from the top 64 take on those ranked 65-128 in the first round in a random draw.
Eventually, the exception would be the UK Championship where the world number one will play the lowest-ranked player, number two would face 127 and so on.
"The top 16 have the right to be seeded, but not to miss out on matches," Hearn said.
"One criticism snooker has had is the lack of characters and stories in the game.
"Now you will have kids taking on established stars, and the chance of Cinderella stories like the FA Cup."
Which players back the plan?
Several leading players support the move.
"If I can't come through the 128 scenario flat system where I might be playing someone ranked outside the top 64 first, I don't deserve to win tournaments," said four-time world champion Higgins, 37.
Australian Robertson, the world champion in 2010, said: "The idea is if we progress to the last 32, last 16, we will be on guaranteed more money than we were in the first place."
Shaun Murphy, winner of the 2005 World Championship, believes it will be a truer test.
"This for me is the landmark decision that should have been taken years and years ago," he said.
"For the first time ever the top players will be able to look everyone in the eye and say they are the top players because they have had to beat everybody else."
For players like Matthew Selt, who is ranked number 46, it could potentially change his life.
"People who are in certain brackets higher than me are not taking to it very well, and that's understandable, but for a game to grow, you need to be on a level playing field, a fairer playing field," he said.
The opposing view
Some top players say they have earned the privilege of starting later on in tournaments, rather like big clubs entering the FA Cup in the third round.
Mark Allen, the world number nine, said: "I've worked hard for the last seven years to get where I am. It seems like we are going back to square one which is a step backwards."
The 1991 world champion John Parrott believes television viewers will be disappointed if the best players do not qualify.
"I'm very much old school. I don't think you need to paint a moustache on the Mona Lisa," said Parrott.
"I'm not saying the players lower down are not great players, but they are less well known and you put bums on seats with the top players."
Hearn calls the current system "protectionism" for top players and Ali Carter, the world number 14, admits there is some self-interest.
"Barry Hearn is going to do exactly what he wants to do because he owns the game so all us players haven't really got an opinion any more," said Carter, a beaten world finalist in 2008 and 2012.
"I'd prefer it to stay as it is because it's better for me. It might be fairer for everyone else, but I'm not everyone else, I'm me, and I'm in the top 16."
Is it more likely Ronnie O'Sullivan will quit?
The four-time world champion, arguably snooker's most marketable player, is taking a break from the game to deal with "personal issues".
He has previously criticised Hearn's revamped 50-week, 27-event tour, but Hearn believes O'Sullivan - who is currently 20th in the world on ranking points after missing several tournaments but third on prize money - could benefit if rankings are deemed less important.
"He can pick and choose his events under this system. At the moment, he's out of the top 16, but in the first 64," said Hearn.
"It probably suits him because he doesn't have to play when he doesn't want to. Dropping out of the top 16 doesn't matter so much - there's more freedom of choice for the individual."