Stephen Lee has 'case to answer' over match-fixing allegations
Last updated on .From the section Snooker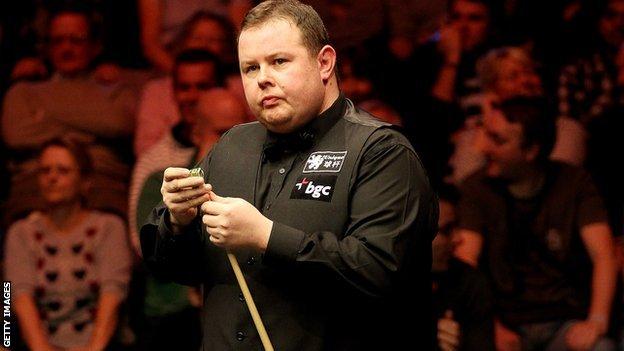 Stephen Lee has a case to answer over four allegations of match-fixing according to the World Professional Billiards and Snooker Association.
Lee, 38, was suspended in October as part of an ongoing WPBSA investigation into suspicious betting surrounding his match against John Higgins.
He will now face a formal independent hearing arranged by Sport Resolutions UK over four separate allegations.
Those include one match at the World Championships in 2009.
Lee is also accused of rule breaches at the Malta Cup 2008, two matches at the UK Championship 2008 and one match at the China Open 2009.
The rules that Lee will face a hearing over relate to betting, specifically providing information that "is not publicly available" and deliberately influencing "the outcome or conduct of a game or frame".
The Trowbridge-based player was arrested in February 2010 by police investigating suspicious betting patterns, but denied any wrongdoing.
He has been informed he will not face a criminal prosecution over the allegations.
Lee has been ranked as high as fifth in the world and began this season at number eight.
The WPBSA has promised to ban any player found guilty of breaching its betting rules.
Responding in a statement issued by his lawyer, Tony Miles, Lee refuted the allegations.
"Mr Stephen Lee wishes it to be clearly known that he denies all allegations brought against him by the WPBSA," said Miles.
"He does not accept that he has been involved in any breaches of the rules and regulations and is gravely disappointed that a decision has been taken to bring proceedings against him."
WPBSA chairman Jason Ferguson said: "This whole thing should come to a close pretty swiftly now. What our chairman of disciplinary [Nigel Mawer] has done is actually thoroughly reviewed the information he's been provided with.
"What he has is concerns over eight matches, which go back some time.
"On top of this was also some concerns over a match played in the Premier League."
World number 60 Joe Jogia was banned for two years and ordered to pay £2,000 costs in July after a large amount of small bets were placed on Matthew Selt to win their shoot-out match in January.