Ronnie O'Sullivan: The Rocket recruits Jimmy White for comeback
Last updated on .From the section Snooker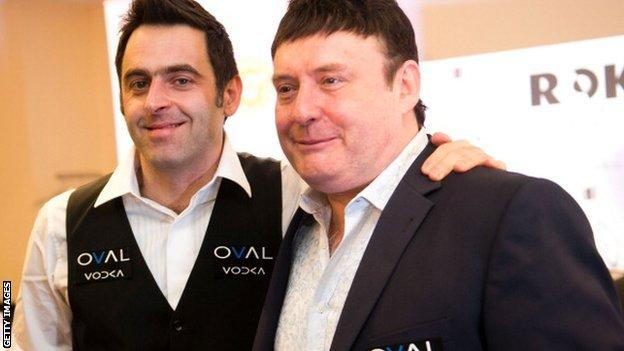 Life would be simpler for Ronnie O'Sullivan if his sometimes tortured mind would tick along in perfect motion like the sweet rhythm of his maximum snooker breaks.
As the four-time world champion announced a return from self-imposed exile to his spiritual sporting home, his enduring dilemma surfaced again.
O'Sullivan has been mentally torn through his adult years by troublesome matters that can cloud his coaxing of coloured balls into small pockets.
Snooker is his first, and in some ways biggest, love. He occasionally can't live with the hassle of travel and below-par performances, and often can't live without the buzz the game provides.
"I've kind of won tournaments from the age of seven or eight, and it goes beyond that. I just love the game, really. You never get completely tired of something you love doing," the 37-year-old told BBC Sport.
And so after just one game on the professional tour since his fourth world triumph in Sheffield 10 months ago, the Essex eccentric is to return three months into a break that would have ruled out a title defence.
With a suitable air of unpredictability he sauntered into a central London news conference, alongside his pal Jimmy White, at three minutes before midday on Tuesday and his return for the 2013 World Championship in April was confirmed.
Organisers had said beforehand he would "make a major announcement about his future plans", and while many suspected a return to defend his crown, some speculated he might retire for good.
This is not the first comeback and you only have to think of some low points in his snooker career to know anything was possible - the walk-out against Stephen Hendry, failing an Irish drugs test, a lewd outburst in China, for example.
That's not considering the release in 2010 of his father, Ronnie senior, after serving 17 years for murder, and his mother serving a spell in prison in 1994 for tax evasion. He also has three children of his own from two previous relationships.
"The problem is while I know what he intends to say, he might change his mind at any time," whispered a secretive member of the Rok Stars outfit which had organised the conference among the business suites of a plush London hotel.
It turns out O'Sullivan contemplated a comeback in January. He was bored and wanted to compete again. He's writing his life story, and why not have another chapter?
A planned revamp of snooker's rankings systems mean they carry less weight in big tournaments, and heavy schedules - with lots of travelling - are the kind of things that "do his brain in".
He will practise with 50-year-old White, who is lining up other players for warm-up games before the return on 20 April in Sheffield.
After the press conference pleasantries, where the two snooker players promoted a new 'global vodka brand', an energy drink enterprisingly called Rocket Fuel plus the Snooker Legends tour, O'Sullivan and White went about their interviews.
"It wasn't a decision I took lightly - it was one for my health more than anything," says O'Sullivan of his break.
In the past he has experienced depression, which some ignorant of the condition's potentially debilitating effects seem content to write off as some kind of lazy indulgence.
"If at any point I can't give 100%, I may have to walk away again," he says.
"Long term, I'd like to be playing for the next seven or eight years ideally, but I can't have a long-term plan. I need to take it step by step, tournament by tournament, that's the reality of it.
"You need to be content in your mind and not have all the stress off the table which I've had for three or four years and won't put myself through again."
The calm words generated by a quick mind reel off like colours being dispatched to the corner pockets.
Chipper and pleasant - enjoying the banter of close pals - the Rocket and the Whirlwind go on a, well, whirlwind of interviews.
"What shall we do with all this vodka then?" jokes White, the six-time World Championship runner-up, who boasts two of the Rolling Stones as friends. More of that to come.
When I tell him he was already 8-1 third favourite to lift the trophy again despite his absence, O'Sullivan raises his bushy black eyebrows and mock exclaims: "But I was 10-1 last year!". White pitches in - "he'll be 5-1 in the morning".
Regardless of how you view him, the Rocket's talent with a snooker cue is hard to question.
"There is no-one like him. I have picked thousands of balls out for Ronnie over time and learned so much from him that I have passed on to other players and coaches," says former coach Del Hill.
It is terribly unfair. Think of a gifted maths student who cruises to A grades without doing a great deal of revision, while fellow students are scrambling round trying to spell Isosceles triangle.
As others have grafted round the globe for rankings points, O'Sullivan has been mucking out on a farm - knowing as defending champion, he would be top seed for any title defence at the Crucible.
Rather than being a pig in dirty stuff, he was pining for the competition, the buzz, the satisfaction of entertaining his fans.
O'Sullivan has triumphed four times at that demanding Crucible fortnight in late April and early May - in 2001, 2004, 2008 and 2012.
His childhood heroes, Stephen Hendry (seven) and Steve Davis (six) set the benchmark for World Championship victories.
This latest comeback might eventually endanger those records, but will again divide opinion.
In the red corner are the doey-eyed enthusiasts who lap up the maverick cueman's disinterest in conformity.
Will he chalk up a quickfire maximum 147 clearance or sit skulking in the corner with a towel on his head? Fascinating.
At the baulk end are those who see him as a sulky attention-seeker who doesn't know what he wants. Selfish.
"He's not bigger than the sport but it would be a shame if the game loses him. He's the best player I have ever seen," says White, who counted the late, great snooker maverick Alex Higgins as another friend.
World Snooker chairman Barry Hearn, who has twice managed O'Sullivan, insists the sport thrived in his absence and told him so.
"It's great to have him back and it will create a lot more interest but we had record ticket sales for the Crucible before this, TV rights are up and the game doesn't revolve around Ronnie," said Hearn.
What O'Sulllivan brings to the table is the kind of devilish panache exhibited by White and Higgins.
While Higgins wielded his cue extravagantly like some kind of Northern Irish Zorro, O'Sullivan glides around, switching effortlessly from right to left hand when required.
His iconic 147 break aged 21 at the 1997 World Championship is a five minute, 20 second masterclass in control, speed and ability. Potting poetry in motion.
Fifteen reds, fifteen blacks, yellow, green, brown, blue, pink and black at an average of less than nine seconds each. Snooker loopy.
He even finishes with a flourish - a triumphant finger point at the adoring crowd and cheeky pretend chalk of his cue. Happy days.
I ask White to tell a tale from the night, "a few years ago", when he and O'Sullivan played a snooker match at the home of Rolling Stone Ronnie Wood, with band-mate Keith Richards completing the crowd of two.
"We was trying to impress Ronnie Wood and Keith Richards - they'd had a guitar-playing competition and wanted us to be judges," he said.
"We played 10 frames and we scored 10 centuries. It was just fantastic snooker."
The Crucible crowd will hope O'Sullivan reproduces some of that irresistible rock 'n roll break-building in a tournament that will feature some big talents such as Mark Selby, John Higgins, Neil Robertson, Shaun Murphy, Judd Trump and Ding Junhui.
They are all formidable players and approachable men. But they are surnames in a sport where Ronnie reigns in the public's consciousness.