World Snooker tour may decimate player numbers - Mark Allen
Last updated on .From the section Snooker77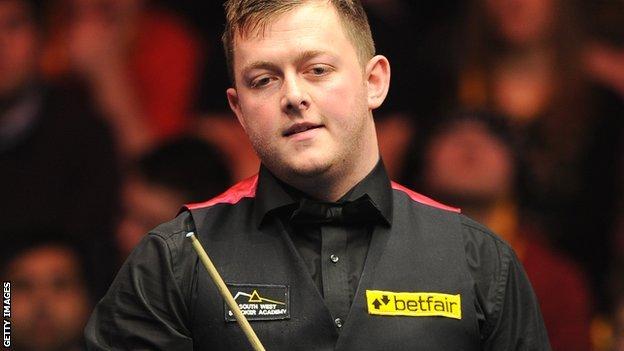 Northern Ireland's Mark Allen has warned that snooker's revamped tour could lead to the loss of half its professional players next season.
Asia is an increasingly important market for the sport, with five of next season's 11 ranking events set to be played in China and one in India.
And Allen, the world number six, believes the travel expenses involved will decimate player numbers.
"There will be far more players who can't afford to play," said Allen.
"There will be 128 players starting next season but three or four months later that will be down to under 100.
"Six months in and that could be down to 64, because so many people won't be able to fork out for expenses."
World Snooker chairman Barry Hearn says the total prize money in snooker has risen from £3.5m to £8m in the three years he has been in charge.
But Allen, a long-time critic of Hearn's new measures, says paying for their own travel expenses has offset these supposed gains.
Players pay for their own flights and hotels for most overseas events, although a spokesman from World Snooker said most of their hotels are paid for in China.
"If I'd have lost in the first round at the World Open [Allen won the tournament in China], I probably would have been struggling to pay my bills," Allen, 27, told BBC Sport.
"There are just so many outlays, especially if we're going to China six or seven times a year. The expenses have probably tripled or quadrupled since Barry took over.
"When we started going to China we used to get our flights paid for but when Barry came in he stopped that, so that's probably another £10,000-£15,000 a year we have to pay out.
"I'm lucky to play the game I love for a living but I'm number six in the world, I deserve to have a bit more money."
According to World Snooker's latest figures Allen is ninth on the current money list, with £278,273 earned over the past two years. However, outside the top 48 no player has earned more than £50,000.
Allen says one way to alleviate the financial burden and mental strain would be to have an 'Asian swing', with two or three months of the season based in China.
"It would make more sense if we, like the European Tour in golf, spent six to eight weeks in China and then came back to Europe," said Allen.
"I could probably count on the fingers of one hand how many days I've spent at home in 2013 so far.
"I've got a daughter who lives in England with her mum and I don't get to see her that much. It does take a mental toll."