World Championship 2013: Jimmy White misses out on Crucible
Last updated on .From the section Snooker52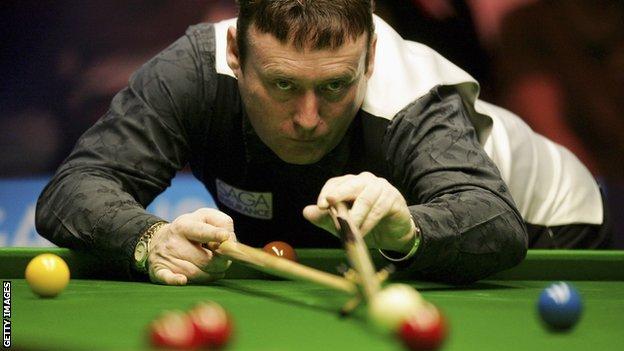 Jimmy White missed out on this year's World Championship when he lost 10-5 to Robert Milkins in final qualifying.
The 50-year-old White, six times a Crucible runner-up, pinned some of the blame on a series of kicks.
Ken Doherty, the 1997 champion, battled back from 9-4 down but lost the decider to Matthew Selt.
Scotland's Alan McManus wants Monday's first-round draw to pair him with defending champion Ronnie O'Sullivan after beating Tom Ford 10-5.
The 42-year-old McManus, twice a Crucible semi-finalist, said: "Masochistically, I would like Ronnie. I could quietly go about my business in the background while all the razzmatazz goes on.
"Regardless who I play, I'll be big second favourite, but to get a chance to play at the Crucible is massive for me.
"People might be surprised to see me and say, 'Are you still playing?' But the answer will be, 'Yeah, it's what I do'."
Like McManus, White was aiming to reach the first round of the tournament for the first time since 2006.
The Englishman shared the first four frames with Milkins at the English Institute of Sport in Sheffield, but his 37-year-old opponent took the next three to open a commanding lead in the best-of-19 frame match.
After falling 9-4 behind, White rallied to win the next frame.
But despite a break of 66, his highest of the match, the veteran lost the following frame to miss out on another World Championship.
"It is very disappointing after finding some form recently," said White.
"We both struggled with the table and there were a tremendous amount of kicks. If I had got to 9-7, I might have had a chance, but I got a kick on 66 or so, my highest break of the match.
"I will still be going up to Sheffield to support Ronnie O'Sullivan."
Peter Ebdon, the 2002 world champion, beat Norway's Kurt Maflin 10-8, while fellow Englishman Mark Davis saw off China's Liang Wenbo 10-6.
Former Crucible semi-finalist Joe Perry was beaten 10-3 by Sam Baird, 24, who will now make his World Championship debut.
Mark King beat Yu Delu 10-9 to leave Ding Junhui as China's sole representative at the Crucible this year.
The draw for the World Championship takes place on Monday, with the event getting under way on Saturday, 20 April.