World Snooker Championship: Inside Ronnie O'Sullivan's mind
Last updated on .From the section Snooker
After a year's sabbatical from snooker, Ronnie O'Sullivan is back to defend his world title at the Crucible Theatre in Sheffield on Saturday.
The four-time world champion, 37, spoke to Rob Walker for a BBC Radio 5 live special, broadcast at 19:30 BST on Thursday, which is now available as a podcast.
Below is a selection of the best bits, including why he quit, why he is back and his chances of winning a fifth world title.
On why he quit snooker for a year
It is quite a demanding circuit but I never found it demanding in the sense I couldn't cope, at no point did I feel burnt out. There is a responsibility on me when I am playing snooker and I understand that, but it was getting a bit too pressurised. I was also getting it in my personal life.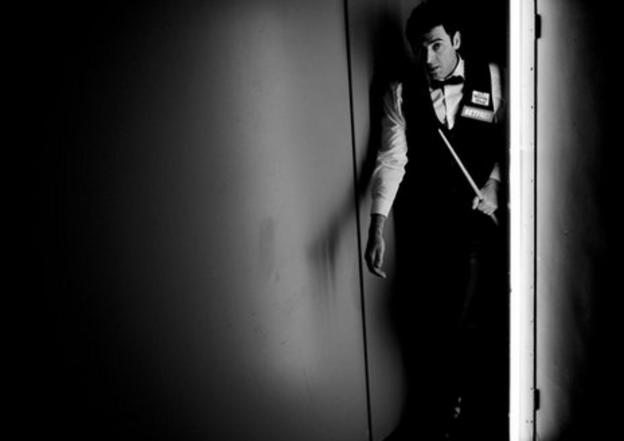 I was like an elastic band; at some point I was going to snap so I decided that the best thing was to remove myself from that situation.
But my decision was largely based on the fact that I'd just won the greatest event there is to win in probably the greatest style that anybody has ever done it.
And, with my little boy there as well, it just all fitted - it couldn't get any better than that. And it probably can't and probably never will. So I was happy to walk away on those terms.
On why he is returning to the game
I realised that snooker gave me lots of opportunities and once I finished playing I got lazy, I got comfortable, I had too much time on my hands. It was nice to have the year out but in hindsight I wish I hadn't.
But it's helped me get perspective and appreciate what snooker did give me; not necessarily in terms of titles and success on the table but what it allowed me to do off the table, which means more to me than playing snooker. It's allowed me to see different parts of the world and meet people I probably wouldn't have met.
On his current state of mind
The last two years have probably been the best two years I've ever had, because I've managed to play to a level I always knew I was capable of.
But I've always lived worrying about whether my game will be there one day to the next. There's a panic and anxiety I put on myself. Every day is different - some days you're great, some days you're not so great.
Since working with [sports psychologist] Steve Peters, it's probably the best I've played consistently for a whole year and I feel much more in control of my emotions. It comes and goes. When it's good, I go with it; when it's not so good, I just try to get some kind of perspective on it. Sometimes when it's not so good I think I'm like some ordinary club player, but it's probably not the case.
When I feel like throwing the towel in, I now realise it's not me that wants to throw the towel in, it's just part of my brain that takes control for that moment and it seems so real. I now know if I stay patient, stick in there, it can quickly turn around and I can get through matches that in the past I might have lost.
On practising with Peter Ebdon
It wasn't a matter of choosing Peter, I happened to be in Sheffield and he happened to be there as well. I think he was more enthusiastic about playing me, he felt he was getting more out of it than I was.
As soon as I walked in there, he was like 'I'm just finishing off this best of seven and I'll play you'. And I was like 'no worries, no stress, I'm just going to have a knock by myself'. But Peter's really intense, likes his practice and I like that; it gave me the motivation to want to play as well.
If someone like that wasn't around me, it would be easy to settle into my comfort zone. I just enjoy playing anyway, whether it's Peter or anybody else. But it's been good fun.
On his Crucible chances
In some ways it was a bad time to retire because I was probably playing my best snooker last year. So it's like I've got a second chance because I didn't intend to come back, it's all icing on the cake.
I haven't played any matches for a year, so there's no point in me saying I'm going to do this or do that.
But I feel I'm playing as well now as when I was 15 or 16, I'm cueing as well now as I have for a long time.
It's going to be a fantastic moment, going out there as reigning champion and having not played for a year, a unique type of experience.
They'd probably charge you a lot of money in a shop for that experience.
I'm going to be a little more mature, I've done what I wanted to do, I've got nothing left to prove, I can probably enjoy it a lot more.
I feel I'm in a lot better space, a bit wiser and I still feel good. I still feel like I can compete, I still think when I look out there: 'You know what? I'm up for this.'
On what winning would mean to him
My best achievement was winning the world title last year. When everyone fancies you to win it and you do win it, that's the mark of a great champion. This year no-one expects me to do much, so in some ways I have nothing to lose. It's easy to do it when you've got nothing to lose. Winning it when you've got everything to lose is more impressive than doing it as an underdog.
On whether he is back for good
I'm not sure how long I'm going to be playing for; I'm just taking it one tournament at a time. That was it for me last year, but a few changes have been made within the game which has given me the chance to play in the amount of tournaments I'm willing to play in and still compete with the top guys.
I'm enjoying my practice and it's given me some kind of direction in life. I'm not sure how many events I'm going to be playing in. I could just practise and play in a few events, I don't need to prove myself to anybody, it's just about getting through life now and having fun and doing it on my terms. If I happen to play in a few events, great, if I don't, I don't.
If I could find something else to do away from snooker - which I'm working on, it won't just happen overnight - that would be a nice transition. Whatever that may be - journalism, having my own shows, something to fill my time up. I probably wouldn't give snooker up until that was in place and I would like to win another world title in my 40s.