Ronnie O'Sullivan made me feel rubbish - Michael Holt
By Owen Phillips
BBC Sport
Last updated on .From the section Snooker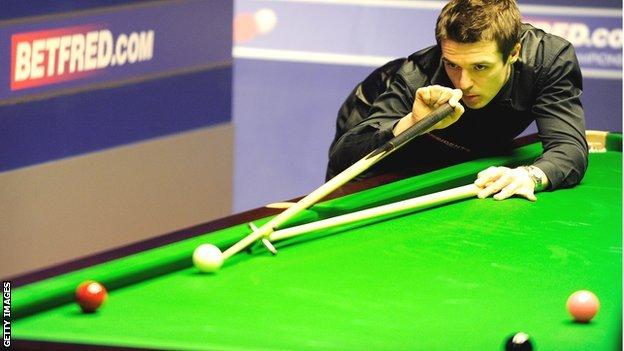 Michael Holt has mixed feelings about Ronnie O'Sullivan's eagerly-awaited comeback at the World Championship.
It is nothing personal. It is just that while it is all well and good enjoying watching a "genius" in action, it is no fun being on the receiving end of a pasting at close quarters and feeling completely helpless and outclassed.
"He is one of the only players I have played and sat there and he has made me feel rubbish," Holt told BBC Sport.
"He is so good - an absolute genius. He is a great, great player - unbelievable. Ronnie's return is great for the tournament. But you won't say that if he starts playing well and beating you.
"The tournament is not devalued if he is not there because it is the World Championship, but him being there adds that extra spice. It's great that he is back."
Nottingham's Holt will be back at the Crucible for the first time in three years and making his sixth appearance in total.
But the Hitman has hardly hit the heights in Sheffield and is desperate to improve his record. His first visit to snooker's home saw him win his only match to date - against close friend, the late Paul Hunter.
The 34-year-old's run was ended by six-time world champion Steve Davis that year and it is fair to say he has not been dealt a kind hand in subsequent events.
He has twice been knocked out by John Higgins when the Scot has gone on to lift the trophy and also met Peter Ebdon when he reached the final in 2006.
This year, Holt's reward for coming through a tricky final qualifying round against Mark Joyce sees him paired with Ricky Walden.
And although Holt is not kidding himself about the challenge he faces against the world number 13, he is happy with his form and feeling confident.
"Ricky is a top player. He has won two ranking events and I will have to play well to beat him," Holt said. "But I suppose you don't want to play the top four because they are there for a reason.
"At Sheffield you have to beat top players anyway I suppose. But it's nice to play someone who isn't in the top four.
"On paper it is a bit easier but if you go out and miss balls you will get beaten."
Like defending champion O'Sullivan, Holt is in action on the opening morning of snooker's showpiece tournament on Saturday.
The world number 25 can hardly wait.
"I feel like a big kid," Holt said. "I'm really excited. I'm a show-off at heart and I love competing on that stage. I still have that desire to prove I can do it.
"I am determined to go further than I have ever been before. My form has good and I have had a fairly solid season."
By his own admission Holt has under-achieved in his career. He has reached the quarter-finals of five ranking tournaments but never seems to have quite fulfilled his promise.
Holt said. "I have been in and around the top 30 players for a long time now but have never really quite put the wins together in a tournament and taken it to the next level.
"I have beaten all the best players at some point but have never quite proven myself.
"There are a lot of players out there like that who know they have the ability but are still trying to make that breakthrough."
Holt has always been refreshingly honest when analysing his career. Perhaps too honest. He has been the first to question and criticise the way he conducted himself in the past.
But he is convinced he has learned his lessons and seems relaxed and ready to seize his chance.
"My dedication was always there but my attitude was not good enough," he admitted. "I was complacent, petulant and basically childish and I built up this reputation and was tagged with it.
"My head could go and it's my own fault I got that tag but I am so much stronger now."
At 34, Holt is by no means approaching the veteran stages of his career, but is wiser and smarter and hopes experienced enough to deal with the occasion better than on previous visits.
He believes dealing with the mental side of snooker is the absolute key. That is what separates the good from the great.
"The better you get - and when you reach a certain level - the more you realise ability is only about 5% of it," he said.
"All the top players can pot balls all day long - that's not a problem. It's more about the mental side of things; it's about handling the pressure and situation when you are out there in the middle of it."
While O'Sullivan's issues away from the green baize are well documented, even Holt's unflappable friend Mark Selby, such a calm, steady and consistent presence on the circuit for a number of years, has admitted how tough it can be conquering the confidence demons.
Holt believes both have a great chance of but says that such is the quality on the tour these days it would not be a surprise if many of the biggest names got knocked out early on.
"I don't think there is one man who stands out at the minutes; the game is so strong," Holt said.
"There are three of four. I think Neil Robertson and Mark Selby are really playing well, so is Stephen Maguire
"With Ronnie I think he will do well but you cannot tell how he will perform. It will be interesting to see how he does play, but I think he can win it.
"It's not like he hasn't played; he's played in exhibitions and has been practising I have heard through the grapevine. He is not going in completely cold. John Higgins had time off and came back and won everything, so it's been done before.
"Playing long games takes it out of you emotionally - not that I have ever made it to the second round," Holt added. "It's so cliched but it has to be one match at a time. I would love to make it through to the second week.
"I still believe I am better than I have ever been and if I just get something going I believe I can do a lot better than I have done."
Additional reporting by Robin Chipperfield