World Championship 2013: Ronnie the Rolling Stone
By Ben Dirs
BBC Sport at the Crucible
Last updated on .From the section Snooker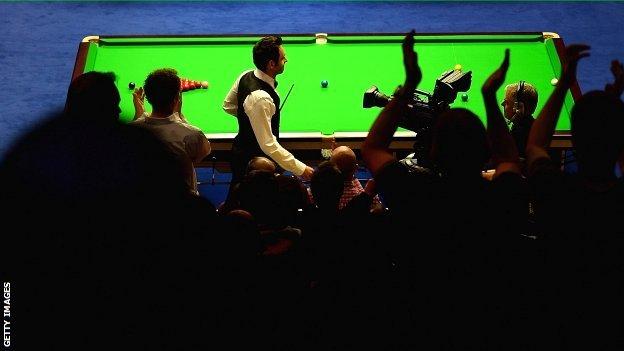 Ronnie O'Sullivan usually does his best to come across as a modest man in interviews.
But when you're as great at your chosen profession as he is, it must be hard to be humble all the time. Therefore, the ego sometimes explodes.
Before this year's World Championship at the Crucible, he couldn't resist comparing his return to snooker to a Rolling Stones reunion.
"If you had the Rolling Stones doing a gig after a long break, it would be like: 'I've got to get a ticket.' And in some sort of way this is the same," said O'Sullivan.
O'Sullivan having left Marcus Campbell Torn and Frayed in his first-round encounter, battering the Scotsman 10-4, the comparison didn't seem so ludicrous: few players in its history have made the often deeply unsexy game of snooker look so rhythmic and soulful.
It takes a lot to cloud the mood of World Snooker chairman Barry Hearn, a man so searingly sunny and optimistic he managed to turn a shy, pallid kid from south London called Steve Davis into one of the biggest sports stars in Britain.
But when Hearn was asked how big a boon O'Sullivan's return to the baize was for the game, he found it difficult to contain his irritation. In fact, Hearn's response had echoes of that famous balcony scene in Monty Python's Life of Brian: "Ronnie O'Sullivan is not the Messiah - he's a very naughty boy."
"I said to Ronnie," said Hearn, chairman of World Snooker, "you're not saving anything. I want you to do what you are happiest doing, because the last thing I want is any problems or indiscipline, we've been through all that."
However, during the week leading up to the Ronnie O'Sullivan Comeback Tour - apologies, I mean the 76th edition of the World Snooker Championship - it was difficult to escape the feeling that rarely has a sport's fortunes been so reliant on a single participant.
Back in the 1960s it was said that Muhammad Ali saved boxing, but Ali was, in hindsight, the headline act of an all-star cast.
A perusal of Saturday's national newspapers revealed most sports editors are only really interested in O'Sullivan. And, presumably because the mercurial Englishman declined to speak to journalists at the draw on Monday, a couple of newspapers didn't bother making room for anything about the tournament at all.
Indeed, there is evidence to suggest that the so-called 'demise of snooker' is perhaps a self-fulfilling prophecy. For when the BBC Sport website published a feature about world number six Mark Allen last week, it was the 14th most-read story on the site that day, with only football stories and one about the impending return to Britain of Usain Bolt ahead of it.
Regardless, snooker's top-ranked players have been falling over themselves to let us know how happy they are to have Ronnie back. Practice partner and former champion Peter Ebdon was almost fawning in his praise, while Allen, not always a fan of O'Sullivan, performed a dramatic about-face, declaring that the "sorry state" of snooker meant his return was crucial for the game's future.
Perhaps they should have more faith in themselves, although their collective sense of inferiority is understandable in the face of such genius. Wise heads in the press room, journalists intimate with the snooker scene, were of the opinion that the standard O'Sullivan's play eclipsed anything they had seen so far this season. "It was alright," said O'Sullivan. "It gave me something to do."
In truth, some of his long potting wasn't great and Campbell gave him too many chances, but in among the balls he was as cold-eyed as ever. Idleness apparently doesn't make O'Sullivan ring rusty, it only makes him more lustrous.
Afterwards, O'Sullivan's hapless opponent complained that some of his efforts weren't given their due. "I played one shot, where I bent the green round the blue with check-side off the bottom cushion and landed absolutely perfect on the brown and I got a ripple of applause," said Campbell. "If Ronnie had played it, it would have brought the house down."
But that's the thing about the legends, Marcus: the Rolling Stones could play an entire concert of George Formby covers in the jazz-fusion style and people would sell their own mothers to get a ticket. Past deeds live long in the memory of die-hard fans and colour present thoughts.
The worry for O'Sullivan's rivals is that, like a rock band that has only just reformed, he should get better. "I wasn't as slick or as tight as usual," he said, "but you've got to expect that if you've not played for a year."
Elsewhere in his post-match interview, O'Sullivan claimed his comeback was "just a bit of fun". Don't believe a word of it. O'Sullivan maintains a torturous relationship with the sport he loves, a love that makes his brand of snooker every bit as serious as it is graceful and compelling.