2013 World Championship: The Crucible's White knight
By Ben Dirs
BBC Sport at the Crucible
Last updated on .From the section Snooker67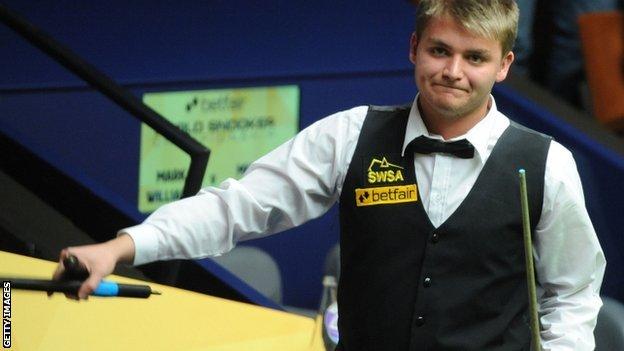 A journalist approaching middle age suggesting to a young man of 21 that he is quite good looking might play a little bit awkwardly at the best of times. Doing so in a young man's dressing room is likely to come across as a little bit creepy. To Michael White, I duly apologise. But bear with me, there was a point.
While the snooker purists will no doubt sigh and groan and say "why don't you press people just concentrate on the snooker?", the reality is that sex and glamour have been used to sell sport since the birth of moving pictures.
The boxer Jack Dempsey, a man famed for his untameable virility and animal ferocity in the ring rather than the symmetry of his features, noted as far back as 1921: "It's no longer enough to have speed and a good right arm to be the favourite. You have to be good looking, too, now that ladies go to the fights."
In truth, sex and glamour is not just about looks, it is also about youth. And former world champion Terry Griffiths, something of a housewives' favourite in his pompadoured younger days, is of the opinion that snooker could do with a few more like White coming to the fore in the professional ranks.
"Michael is a nice-looking lad, like his fellow 21-year-old Jack Lisowski," says Griffiths, who coaches White and was there to see him beat two-time champion and fellow Welshman Mark Williams on his Crucible debut on Sunday.
"He's also a very, very attacking player, he's very personable and we need young players like that coming into the game because we haven't had a batch for while. One of my heroes is Muhammad Ali, so I think it's important snooker has people the press are interested in, on and off the table."
While snooker's top-ranked players aren't exactly tottering around the table at this year's World Championship on walking frames, the average age of the 16 seeded players is 32. Meanwhile, only four seeded players are under 30, compared to 11 in the randomly selected 2000 edition of the tournament.
So it was heartening to see the blond kid knock out one of the old heads in the early days of this year's event, although it is somewhat surprising it has taken White this long. After all, this is a lad who won the World Amateur Championship at 14 and made a century break in competition aged only nine.
"I started playing when I was seven and it wasn't long before I was getting breaks of 70 and 80 breaks all the time," says Neath native White. "I beat the Welsh amateur champion when I was 10. He couldn't believe it. I suppose it must have got to the other players a bit, being beaten by a 10-year-old.
"But winning the World Amateur brought a lot of pressure, because people started saying I was going to be world professional champion by the time I was 16, stupid things like that. It was a lot for a 14-year-old to take in."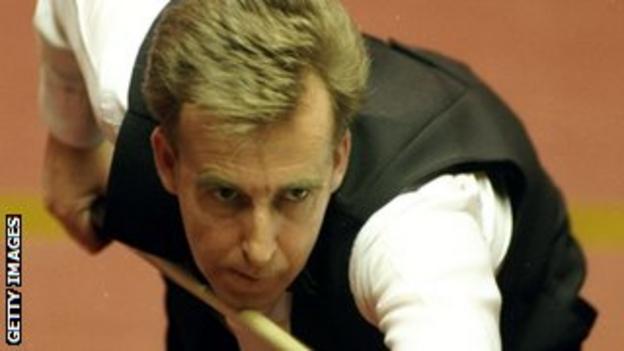 White turned pro at 15 but found life in the paid ranks a little less to his liking. "It's hard for young players to manage their expectations," says Griffiths, one of the most eloquent guides to the ins and outs of snooker you could hope to find. "They can often be too high, which they have been at times with Michael.
"Junior snooker is a very different game, there's a lot of open play, you get a lot of chances. But when you step up to the senior level you get less. There's a big, big difference.
"It's hard out there in qualifying. There's nobody there watching you, it's just you and the other guy and he's there to stop you playing. You keep hitting these same players and slowly your confidence gets ground down."
But White remained sharp, climbed the rankings and is now the world number 41. "I'm really pushing on now," says White. "I've been able to score as well as the top 32 players for the last few years but there were other things that needed tweaking, like shot selection and safety. And handling the big occasions."
And occasions don't come much bigger than a Crucible debut against a player who was a childhood hero. "To beat Mark on a practice table is one thing but to do it out there at the Crucible is an unbelievable feeling," says White. "I always looked up to Mark and it was a privilege just to play him. When I drew him I thought it would be a good experience but to win is just incredible."
It is tempting to see White's victory over Williams as a changing of the guard moment in Welsh snooker, as it was when Williams beat Griffiths in the latter's final game at the Crucible in 1997. But Griffiths doesn't see it like that.
"Mark's not going through a great spell at the moment but he's had dips before and he's come back," says Griffiths. "When Mark played me I had dropped out of the top 16 but I qualified for the Crucible and played exceptionally well. I lost on the black in the decider and he still tells me: 'I retired you, Griff'."
Win or lose his second-round encounter against either Stephen Maguire or Dechawat Poomjaeng, White's appearance at this year's tournament has been a breath of fresh air. Indeed, the blonde hair and the cherubic looks are a reminder of the late Paul Hunter, nicknamed 'The Beckham of the Baize'.
I finish our chat by asking White if he would be comfortable being a pin-up boy of snooker, in the Hunter mould. "I dunno... I suppose so," he says, squirming in his seat. The lady in the room is far less reticent. "In answer to your question," she says, "us girls would like more good-looking boys in the game."