World Championship 2013: Barry Hawkins high on confidence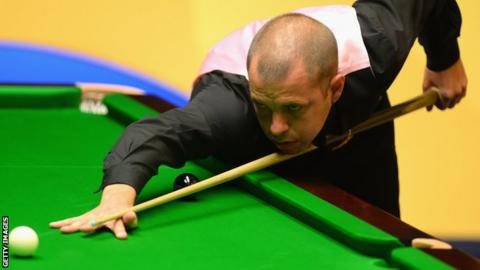 Barry Hawkins says his confidence could not be any higher after cruising into "the thick of the World Championship" with a slick first-round display against qualifier Jack Lisowski.
The Australian Open champion continued his impressive form this season with a 10-3 win over the Crucible debutant.
"I played really solid," the London-born cueman told BBC Sport.
"After the season I have had my confidence cannot be any better really."
Hawkins, who will be 34 on Tuesday, has played some of the most consistent snooker of his career this season and secured his first ranking event title with victory over Peter Ebdon in the final of the Australian Goldfields Open in Bendigo in June.
Hawkins, up to 14 in the world rankings, said he felt relaxed and in an ideal place to make the most of his good form and calm mood.
"It has taken me a long time to get to this stage," he said.
"I have had a lot of setbacks in my career, but I have kept fighting, kept practising and working hard and I feel that now is the time to have a decent run here."
His prospects look encouraging after an emphatic victory over 21-year-old Lisowski.
"I was pleased with the way I performed throughout the match," said Hawkins, who will play Mark Selby or Matthew Selt in the second round. "I didn't finish off as well as I would have liked but I think I did the job early doors.
"I am delighted to still be in the tournament and in with a shout."
Hawkins, who is making his eighth successive appearance at the Crucible, has now reached the second round on his last three visits.
"The first match is always one of the toughest because you want to be really involved in the tournament," the Ditton resident said.
"Once you get through the first round, you are in the thick of it. Now I have got that out of the way I can settle down and try to treat it like any other tournament.
"Obviously it's the World Championship so it is always at the back of your mind; it's the biggest stage and you want to do really well.
"But I have been to a lot of venues and been to this place a lot of times so I know what to expect."