World Snooker Championship: Sam Baird upbeat for debut
By Owen Phillips
BBC Sport at the Crucible
Last updated on .From the section Snooker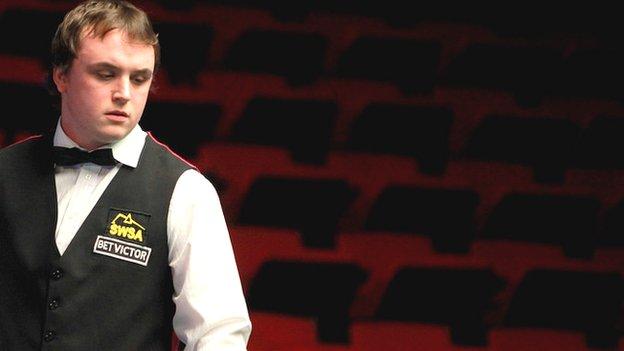 The lowest-ranked player to qualify for this year's World Championship has a refreshingly honest and simple approach to his Crucible debut.
Sam Baird knows he will be riddled with nerves, but he will play with no fear, no pressure and very few expectations when he takes on Stuart Bingham in the first round on Wednesday.
The world number 83 just wants to savour the experience after a "shocking season" and he believes staying calm is probably his best chance of causing a shock or two.
"If I play badly, I'm so bad that I couldn't beat anybody. If I play well then I could beat anybody," the 500-1 shot said.
"If anyone has ever seen me play when I am playing badly, then they'll know what I mean - it's unbelievable."
Baird, who lives in Tiverton, Devon, is still slightly bemused that he is in the draw at all.
The 24-year-old had to win four matches in a gruelling qualifying event at Sheffield's Institute of Sport to reach the sport's end-of-season showpiece. And despite a miserable season, he did it in some style.
A confidence-boosting 10-7 win over Chen Zhe in the first round was followed by thrilling deciding-frame victories over Peter Lines and Rory McLeod.
In the final round, he thumped former World Championship semi-finalist Joe Perry 10-3 to secure his place in Sheffield's more glamorous venue.
He takes great confidence from his recent resurgence on what will be his first Crucible appearance.
"I've never even been there as a fan so it's going to be a new experience," Baird said. "But if I play like I did at the end of the qualifying, there's no reason why I can't be a handful for anybody.
"I had a lot of luck all the way though the tournament mind, but by the end it was all just coming together and I couldn't have played much better."
Exeter-born Baird is quick to credit former world champion Terry Griffiths for playing a huge part in his improvement and helping salvage his season.
"I hope I've turned over a new leaf," he said. "I've done some work with Terry and I'm hoping that sort of thing where my game crumbles is behind me and that I can still be competitive and not slump into being absolutely dire.
"Terry's good at the mental side of the game and I've been handling it differently, so if it doesn't go well then there's another tournament around the corner, instead of torturing myself about it.
"I wasn't a big believer in the mental approach but now I do believe it. He tried to understand how I approach the game and what I was thinking in good times and in bad times and tried to help me because I've had a bad season.
"He's been looking at some technical stuff too - like I was struggling with my potting. He's changed some things such as the way I am on a shot and walking into a shot. But if you saw me playing before and after you probably couldn't tell the difference."
Baird, who cites Jimmy White and Tony Drago as his two favourite players, first started playing on a full-size table at the age of six, but didn't score his first century until he was 14. It was only when he was 18 that he decided to make a career out of his hobby.
"Even before this I've had to pinch myself that I can play snooker every day, which I love doing," he said. "The buzz at a tournament is like nothing else. Everybody wants to do what they enjoy - even when times aren't great."
Despite the undoubted 'buzz' surrounding the Crucible, his laid-back approach soon resurfaces.
"I'm happy just winning a few games and picking up some money," he continued. "I've never been huge on getting on TV and fame and fortune.
"But it's been a shocking season. Last season I did the same thing really. It seems to be I don't seem to start playing until it's too late, and I've already had a bad season. Then I play more carefree. I need to try and find a way of putting that attitude into the start of the season.
"To some extent I already have salvaged this season, but if I could win a game or two at The Crucible that would be unbelievable."
Baird acknowledges he will be a big underdog against world number eight Bingham.
"Stuart's a great player and he's had a great couple of seasons. I could play brilliant and at the top of my game and still lose," he added.
"But I still can't believe I'm there. I'll be so nervous even in the first game that nothing will cross my mind really except trying to concentrate through the nerves and pretending no-one's there."