World Snooker Championship 2013: Dott wants rule change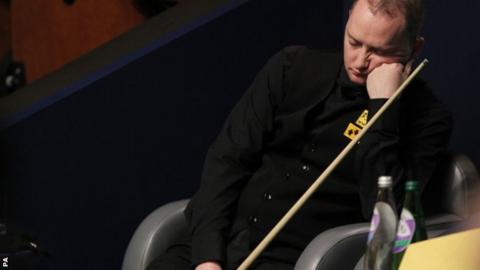 Former world champion Graeme Dott says snooker rules need to be changed to speed up "slow play".
Dott defeated Peter Ebdon 10-6 in the first round of the World Championship in a marathon match that took over seven hours to complete.
"The only thing I can think of is having a shot clock, because it's killing the game," said the Scot.
"The standard these days is very high and there's no need to be as slow as Peter was."
He added: "Is Peter cheating? No, because there isn't a rule and there should be a rule brought in for slow play.
"I think he's been playing for 25 years and he knows the shot he's going to play and I know the shot and the crowd know the shot, and he'll still take maybe over a minute.
"Because he was taking so long I was actually trying to think of one [a rule] when I was out there playing."
The Dott-Ebdon clash went over into an extra session, after the players failed to complete the match in the allotted two sessions.
But the repeat of the 2006 world final - which finished at 12.52am - still fell three hours short of the the longest first-round match in Crucible history in 1989 between Eddie Charlton and Cliff Thorburn - going on for a gruelling 10 hours, 24 minutes.
Dott believes officials need to step in when players are taking excessive time in playing shots.
"Peter's not the only one that does it [plays slowly]. There are other players high up the rankings that I think take liberties," he said.
"You can't say to someone that you've got a minute to play your shot because Peter will take that minute, he'll just run the clock down.
"There isn't a rule for toilet breaks so again Peter isn't breaking any rules. But there should be a rule.
"Referees back in the day were harder. I remember John Williams saying to Quentin Hann: 'No, play. You're not going to the toilet. You've just been to the toilet'.
"The referees nowadays just referee. They don't want any controversy."