World Championship 2013: Mark King relaxed after Mark Allen win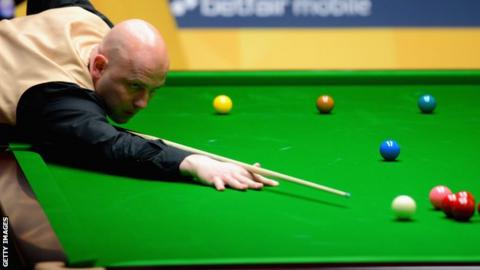 Mark King was struggling to know what to do first after his impressive comeback win against Mark Allen in the first round of the World Championship.
Having battled back from 8-6 down to beat the world number six 10-8, King's emotions were all over the place.
He had managed to keep his temper in check, narrowly avoided being physically ill, fought back the tears and then felt the urge to rush back to Essex and kiss his wife.
And this is from a man who insists he is trying to adopt a more relaxed approach to his 14th Crucible appearance.
"I came here with no expectations whatsoever and it's probably the first time," the 39-year-old told BBC Sport.
"I have always come and thought I can win it and I have put so much pressure on myself.
"This year I have come here and thought 'I am going to enjoy it for once and relax'.
"A couple of times I did get hot under the collar but I managed to calm myself down.
"I thought, if you get beat I have three lovely kids and a wife at home and if I get beat, I am still going to go home to them."
World number 30 King is returning back to Braintree for a few days where he intends to "chill out, relax and hit some balls" before facing either Ding Junhui or Alan McManus in the second round later this week.
And he hopes the new, more carefree outlook he tested out against Allen may just help him make the quarter-finals for the first time.
But although King's expectations may have been lowered, his passion and desire have certainly not diminished.
Having lost a potentially pivotal 12th frame on the black when he was in control, a celebratory Allen fist pump actually helped inspire him.
"I couldn't believe I lost that game," King said. "It riled me a little and it spurred me on.
"In the last four frames I played decent and flowed a bit.
"But I twitched a pink in the last game and I nearly threw up and when I potted the game ball I nearly started crying.
"You just want to do well. Sometimes you can't pot a ball, you are missing easy balls and the crowd are tutting and you think I can play so much better.
"Sometimes it just doesn't happen.
"I came here with nothing to lose and have put a lot of work in, but if I get pumped 13-0 in the next game so what?"