World Championship 2013: Robert Milkins hails 'biggest' career win
By Owen Phillips
BBC Sport at the Crucible
Last updated on .From the section Snooker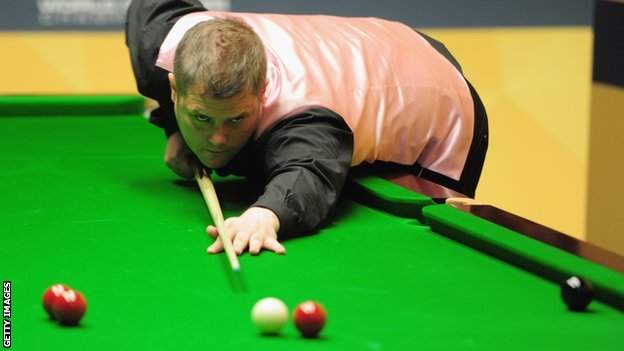 Milkins's issues clouded his professional life, following the death of his parents and a messy divorce.
But the 37-year-old's thrilling 10-8 first-round win over Robertson in the World Championship has capped a fine return to form in the last two seasons.
"I'm chuffed to bits. A few years ago I was in the gutter," said Milkins.
"It's the biggest win of my career. Beating Neil over the best of 19 frames - it does not come much better than that."
The Bristol-born, Gloucester-based player trailed 5-2 at one point but showed tremendous battling qualities to triumph in his first Crucible appearance since 2005.
And an emotional Milkins, who is ranked 19th in the world, said his settled home life had been behind his resurgence.
"I am just happy with life," he said. "I have two young kids, a lovely missus, good friends, a good manager and a good coach. I don't need much else.
"Before I had nothing - nothing at all. I was in a flat going out drinking every day, then I got evicted and was £20,000 to £30,000 in debt.
"Off the table everything happened. I lost my mum and dad and I went through a divorce. It blew me apart. I have myself to blame but other people and other things didn't help me.
"Snooker was the last thing on my mind. When things happen in your life you don't think about picking your cue up and practising.
"All I wanted to do was go and have a drink. I didn't really have many people around me, so with me it was more of a social thing. I didn't have a drink problem but I had to be out and among other people.
"I was lucky that good friends of mine came along and they took me in. They had helped me previously when my mum died 15 years before and they came back into my life. Then my manager, Paul, came along and it has all turned around."
Milkins made his Crucible debut in 2002, reaching the final 16 for the only time in his career, before three more consecutive appearances followed.
On Thursday, he played with maturity and won the tactical battle against the 2010 champion.
"If he [Robertson] gets on top of you he is very, very difficult to beat. It is just great. I am just ecstatic," added Milkins.
"My safety [play] has been stronger than the rest of my game for a couple of years now. But obviously people remember me for being a potter.
"A couple of other people told me how good my safety is but I don't really think about it and I don't really remember it - it is just standard."
And Milkins said his section of the draw was now looking good, and the winner of his match with world number 13 Ricky Walden had a great chance of making the semi-final.
Michael White is in control against fellow qualifier Dechawat Poomjaeng and looks like being next up in the quarter-finals.
Milkins said: "Let's not beat around the bush, we have all got a good draw now.
"Ricky has a good draw against me as well but there will be a lot of pressure on us. All four of us have a good draw."