World Snooker Championship 2013: Crucible love affairs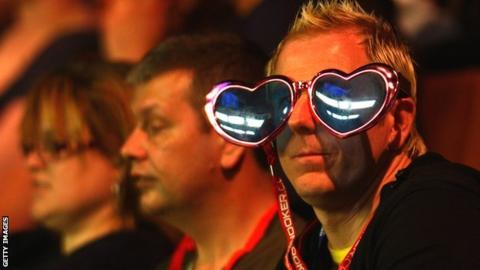 The faces grow more lined, the shoulders more sloped, the heads less hirsute. Except for Valerie.
But they are always there - behind a player's elbow as he breaks, during any given session, on any given day, at any given World Championship - snooker's fanatics, the lifeblood of the 980-seater Crucible in Sheffield.
These characters you spot on your television - sitting in the front row, most likely in the same seat as yesterday - think of them as snooker's version of hereditary peers.
Still entitled to their privileged position because of some quirk of an outmoded season ticket system, they will keep returning, year after year, until such time that infirmity - or more likely their maker - takes them.
"The only way we can lose our spot is if we're sick or we die," says David, over from Sydney for his 19th visit in a row. "It's basically like the House of Lords, except we don't get to vote on anything."
I catch up with David just after his compatriot Neil Robertson has been dumped out by Robert Milkins. But David, a tie fashioned after the Australian flag worn proudly round his neck, is more worried that there are only nine days of the 17 left. His holiday in Sheffield is fast approaching its mid-session interval.
"When the tournament is over, I think to myself 'oh well, it's only another 49 weeks until the next one'," says David, who has been involved in snooker administration back in his native New South Wales for 40-odd years.
"Every year I do the full 17 days and every session. I did miss a session on Tuesday - I gave away my ticket to a fellow I used to referee back in Australia. But 45 out of 46 is OK; I'm over having to see every frame."
Not everyone is so blase. In the press room, I am told of a certain snooker statistician who was once so desperate for the toilet that he skipped off between frames and missed a rare 147 break. He developed a morbid fear of missing another one and now limits his liquid intake before the start of each session.
But even if you are there for every frame, you might be on the wrong side of the dreaded partition between the tables. "It kept happening to me," says David. "There were all these 147s but it was always the table I wasn't on, until Ali Carter got his in 2008."
Valerie has been visiting with her husband and son for 32 years and their first final was Steve Davis's victory over Doug Mountjoy in 1981. Remarkably, Valerie reckons at least one family member has attended 90% of sessions since, which amounts to something in the region of 1,500.
"My son was barely 14 when we first came and now he's 46," says Valerie, whose first visit to the Crucible was to support reigning world champion Cliff Thorburn, a golfing partner of her husband. "So it's been quite a long time."
Brian is the chap who wears the old-school Coventry strips. Today, he is resplendent in chocolate, circa 1979. "I've been coming 21 years in a row now, although my first match was in 1989, Jimmy White against Dene O'Kane. It's my two-week holiday every year, my trip to Spain," he says.
He met his partner at the Crucible six years ago and last year proposed to her live on the BBC. Brian, who has a seat next to his dad, recalls: "I took the microphone off MC Rob Walker, got down on one knee and said: 'I want to marry you.' Not to Rob Walker. We both love the game and Lisa kindly said yes."
I ask Aussie David if his friends and family think he is crackers. "If you're spending a couple of thousand pounds to get here and another thousand pounds to watch the snooker, I guess you have to say it has become an obsession," he says. "No-one's called me weird, but perhaps they call me that behind my back."
Ian is down with his mate from Stranraer and it is the sixth year in a row they have attended. "As a Scotsman, this is what it's all about, because it's not like we're going to qualify for another World Cup," he says.
I ask Ian what separates the hard-core snooker fans like himself from the casual viewer. "The joy of the sport is seeing a world-class player struggling," he replies.
"The epitome of snooker was the 18th frame between Stephen Maguire and Dechawat Poomjaeng the other night - Poomjaeng had the chance to win it, totally bottled it, Maguire had his chance, totally bottled it. That was one of the great frames of this championship, pressure defeating the purpose."
Our chat is punctuated with banter between Ian and his mate, but they both come over all serious when I raise the spectre of the tournament moving from the Crucible to China.
The Grade II-listed building has held the tournament since 1977, although the current contract to host the World Championship there expires after the 2015 event.
"Barry Hearn, listen to me," says Ian. "This is the home of snooker, don't ever take it away from this arena. I would be very, very disappointed if the World Championship ever moved."
Ian's mate is not convinced. "At least the drinks might be cheaper in China," he says. "If the bar in this place did more reasonable prices, we would miss a lot more sessions - £31.20 for two triple vodkas and two pints of lemonade."
At first William, an accountant from Edinburgh dressed like a country gentleman, is reluctant to talk. "An interview?" he says suspiciously. "I'm feeling a bit the worse for wear." But he turns portentous when I mention China.
"I can't imagine the Crucible not being in my life but it probably won't be in a few years' time," says William. "There's a real fear among fans it will move to China because the sport is so huge over there. I probably wouldn't go."
"I've got one of the best seats in sport," says Coventry Brian. "I'm right up close. The atmosphere is fantastic, you feel like you're part of the game, drama at its best. There's no better place than the Crucible. I dread this tournament ever moving to China, being taken away from the home of snooker."
David, meanwhile, is more sanguine about the prospect, saying: "It would be a lot easier to get to China every year and I'd save a lot of money. And if everyone in China gets a TV set, that's a lot of people watching snooker."