World Snooker Championship 2013: Ricky Walden living 'dream'
By Owen Phillips
BBC Sport at the Crucible
Last updated on .From the section Snooker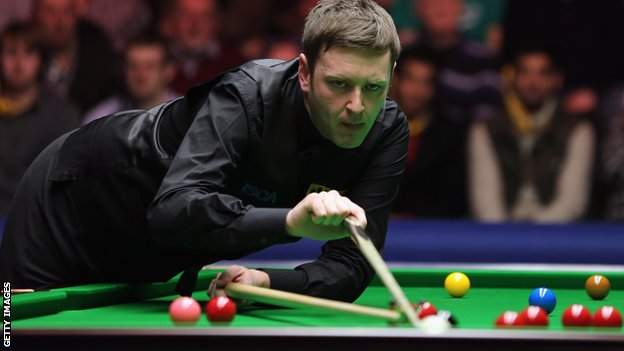 Ricky Walden could hardly sound calmer when he discusses what could be the biggest few days of his career.
The 30-year-old had never been past the first round of the World Championship until he breezed into the last 16 with a 10-1 win over Michael Holt on Sunday.
But behind the relaxed demeanour, it's very much an all-or-nothing approach.
"If I said I success would be reaching the semi-finals and then got knocked out in the semi-finals, I will still be devastated," said the Chester player.
"The only way I would be happy here is if I win."
The world number 13 does not have a great record at snooker's showpiece event, having only reached the Crucible twice before this season and admitted to slight relief at "getting rid of those demons" by progressing to the second round.
"It was sort of on my mind, but it was being mentioned more by other people, to be honest," Walden said.
"I have had a couple of tough draws here so it was nice to get a win under my belt at the World Championship and I was pleased with how I played."
It was easy see why Walden was encouraged by his clinical performance against Holt.
Walden scored a fine break of 76 in the opening frame and brilliant 140 in the the third as he seized control from the off, but it was his tactical play and shot selection that seemed to disturb Holt and lay the platform for a convincing win.
"I had a confident start and then started to put him under a lot of pressure," he said. "I scored well and kept it simple and it worked.
"I like to get among the balls straight away and score quickly. But the other side of my game has improved a lot in the last couple of years. I can battle when it is scrappy and am better tactically."
The improvement in Walden's game is borne out by the second ranking event victory of his career earlier this season.
And although he did not follow that up with further success, the win in the Wuxi Classic in China has given him every reason to feel confident prior to meeting qualifier Robert Milkins in the second round.
Walden or Milkins, the conqueror of one of the favourites for the title, Neil Robertson, will face Michael White, another qualifier, in the next round after he beat Dechawat Poomjaeng 13-3.
But Walden has not been glued to his television set during the tournament, instead sticking to his normal routine of a gym session in the morning followed by four or five hours of practice and then "chilling out "a bit.
"I have watched a bit of snooker but not much," he said. "I have see a few games involving my pals, but have tried to leave everyone to it quite a bit."
He will be fresh and ready to go on Sunday, seven days after he wrapped up victory over Holt, and is determined to make the most of his third Crucible appearance.
"My previous visits I have actually neglected the occasion and I haven't enjoyed the moment as much as I should," added Walden.
"As a 12-year kid I dreamed of playing here and I realised that I had taken it for granted.
"Getting to the 25-frame session stage is a new experience for me and I think it will suit my game.
"It means you can be a bit more positive and go for a few more shots and if you lose the odd frame, you still have a bit of recovery time."