Terry Griffiths: Snooker legend is the 'go-to' guru
By Owen Phillips
BBC Sport
Last updated on .From the section Snooker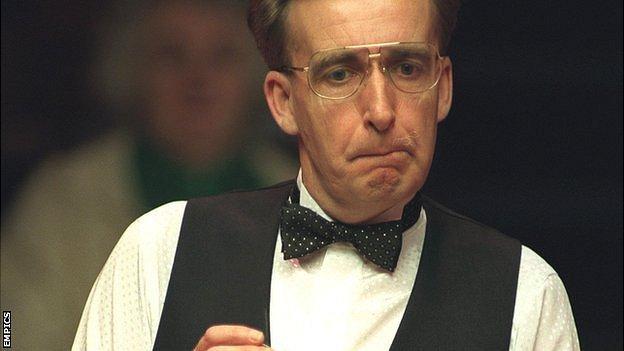 It is hard to imagine Terry Griffiths losing his temper, let alone slapping one of the many players he coaches.
It is, however, pretty easy to understand why his soothing, hypnotic Welsh lilt - so familiar to snooker fans from his BBC commentary - has worked wonders for so many players at this year's World Championship.
Semi-finalist Barry Hawkins, Michael White, Robert Milkins and Mark Davis - first-round conqueror of four-time champion John Higgins - are just four players who have heaped praise on Terry Griffiths OBE after great wins at the Crucible.
The 1979 world champion - one of only seven men to have completed snooker's Triple Crown - is the sport's 'go to' man for world champions, promising youngsters and veterans still looking to make the breakthrough.
But do not expect an easy ride from this snooker guru. An unforgiving and very lonely sport needs mental toughness.
And Griffiths, who has worked with seven world champions during his 12 years as a coach and is currently working with around 14 players, is not averse to the shock tactics.
"Some people need a slap in the face, which a few have had - take it from me," Griffiths tells BBC Sport.
"At times I have slapped some of my boys around the face and said 'if you don't get this going right now mate, you are out and going home' and I just walk out of the dressing room. There's no point in saying any more then, just leave them there and let them think about it.
"Another time I will have to put my arm around them and coax them."
Clearly snooker's violent side is only reserved for special occasions. It is the mental approach that fascinates Griffiths and where he comes into his own.
Hawkins, who is playing Ricky Walden in the semi-finals after magnificent wins over Mark Selby and Ding Junhui, is brimming with confidence. The world number 14 is in no doubt Griffiths has been key to his fine run.
"Terry is a big help, working on the mental side and tweaking the technical," Hawkins said. "It has always been the problem upstairs with me, having the self-belief.
"I can just fire it off better now. It is mostly down to Terry. It is nice to speak to somebody during matches who knows what you are going through - someone who understands the game. It helps no end."
Griffiths, who turned professional in 1978 and retired as a player in 1997 when he dropped out the top 16, says the mind matters more than ever when it comes to coaching.
"It used to be a lot of technical stuff years ago - probably 90% on the technical side," said Griffiths. "Now it's the other way about, perhaps 80-20% on the mental side.
"A lot of players feel they are playing really well but don't know where to go to to get that extra knowledge of what happens in the mind, and because I played myself for nearly 20 years as a professional and went through all the good and bad, that has helped me to form a bond with the players.
"I can't win any matches for any player - don't get me wrong, they have to do that - my job is to prepare them to do it, so it's only small. But if it helps - and it has because I have had five or six players that have won for the first time working with me - I am doing something right.
"I feel privileged. Players open their minds to me and that's not an easy thing to do.
"It takes a lot of preparation with these players. But my first job is to meet them and get their trust. I need to explain what I will try to do for them. If they are not open to me then I am no good and I cannot help them.
"Once I form that bond then when we come to the tournaments and the pressure is on, they trust me. That is the most important part of a coach. It's one thing having the knowledge how to help them, but if you haven't got the 100% trust, it doesn't matter how much knowledge you give them."
The 65-year-old cannot help but chuckle to himself.
"I do say to them 'Well, what do you think is my best asset and why do you think I am doing OK with you?'
"They say 'you seem like my best friend but then you can be so harsh on me sometimes'. I say 'thank you very much.' That is how I want to be.
"You can't get too close to them because friendship and trust do not go together sometimes. In general terms, my job is to get them in a good frame of mind for the big tournaments."
The bulk of his work with the players is during tournaments, but years of travelling on the tour means he does not venture abroad. That doesn't mean the work stops; he stays in regular contact and sets "homework".
Davis, a pro for 21 years, has certainly benefited - as demonstrated by his first-round victory over Higgins on the back of his best season on the circuit.
He said: "Terry has helped a lot of players and has been brilliant. Even though I have been getting results - otherwise I would have been off the tour years ago - I wasn't perhaps getting as much as I should be. Terry just made me think a little bit better and a little bit clearer.
"I have a long way to go yet. I had 19 years of terrible thoughts so there is a still a lot of work to be done. I crumbled in loads of games. Some matches I knew I was going to lose. I didn't fancy beating anybody.
"Basically it comes down to lacking self-belief and I had that for a lot of years."
It has not only been successful for the players under his tutelage but hugely rewarding for him too.
"I feel I've learnt so much from players I've coached and from coaches I've trained," Griffiths said. "I say I'm always the student and I'm very much in love with learning in regard to the game of snooker because you never stop learning."
Griffiths just regrets coaches in snooker were not the norm at his peak.
"I would have loved to have had a coach when I was a player," he said.
"When you are out there by yourself, you stand and fall by what you have got. I had nobody to talk to and it can be devastating when you lose."