World Snooker Championship 2013: Hearn rejects Selby claims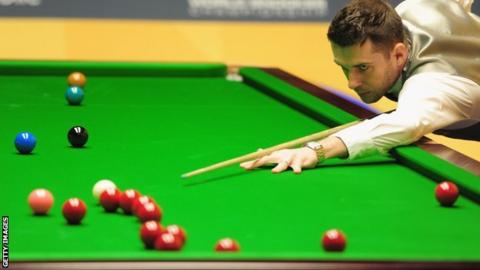 World Snooker chairman Barry Hearn has rejected Mark Selby's claims that his World Championship exit was down to fatigue.
Following his 13-10 second-round defeat by Barry Hawkins, world number one Selby said he felt "burned out".
But Hearn told BBC Sport: "I am not a fan of burnout or using it as an excuse for under-performing.
"I sympathise with the older players, but if you can't keep up with the youngsters, move aside."
Hearn, who has run snooker since December 2009, has this season expanded the schedule to 50 weeks.
Selby was bidding for the 'Triple Crown' of the Masters, UK and world titles at the Crucible before his challenge was ended by Hawkins on Saturday.
"I had no drive, no buzz," said the 29-year-old from Leicester. "This year I've played in almost everything and I just feel as though I've burned myself out playing too much."
Former world champion Ken Doherty said Selby had played "almost 100 matches this season. That's quite a lot."
But Hearn countered: "I expect the players to be fit, to lead a good lifestyle, to watch their health and mental health. There will not be any slacking off."
The greater workload is not the only one of Hearn's new ideas to come under fire, with the game split on the plans to prevent the top 16 players being automatically entered into the latter stages of all 11 world-ranking events.
From next season, all 128 professionals will be required to play from the first round in eight major tournaments.
"Professional sportsmen will always says there are some things that affect their standard," said Hearn.
"This is an evolution in the sport, professional snooker players must now start to be professionals. This is not a jolly up, it is not for amateurs.
"They have the freedom of choice to play in whichever tournaments they want. I expect the professionals to love their sport - they are chosen and blessed people. I expect them to be grateful in the sport they love to be in."
Hearn has also announced plans for a new Champion of Champions tournament.
The event in November will carry a £100,000 top prize and be contested by the winners of major tournaments.
Held at the Ricoh Arena in Coventry, the 16-man competition will be televised on a free-to-air channel.