World Snooker Championship 2013: Hendry tips Ding for title
By Ben Dirs
BBC Sport at the Crucible
Last updated on .From the section Snooker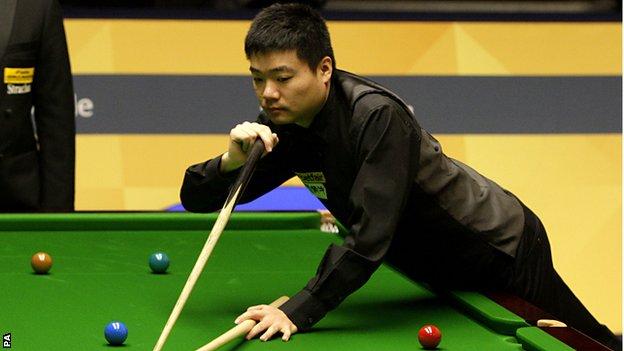 Seven-time world champion Stephen Hendry has backed Ding Junhui to become the first ever Chinese player to win the world title.
But Hendry said he was disappointed by the overall standard of play in the first two rounds at the Crucible.
"I'm sticking by Ding. If you look at the draw it looks like he's going to have to break his legs not to get to the final," Hendry told BBC Sport.
"A lot of the top players have failed to stamp their authority."
First-round losers included four-time world champion John Higgins, two-time world champion Mark Williams and 2010 winner Neil Robertson, while world number one Mark Selby was knocked out in the second.
As a result, world number nine and two-time UK Championship winner Ding is left as the highest ranked player in his half of the draw - though he trails England's Barry Hawkins 5-3 after the first session of their quarter-final. The winner will face Ricky Walden or Michael White in the semi-final.
"I've been disappointed in the top players, I must admit," added Hendry, who retired after last year's World Championship.
"I know the standard is getting higher in terms of the qualifiers who are coming through but the big names looked really under pressure in their first- and second-round matches.
"The World Championship always used to see the best players come through because of the longer matches.
"So the proven winners - Robertson, Selby, Higgins, Williams - will be very disappointed with their performances.
"This is their biggest tournament of the season by a mile. To not play your best at the Crucible is a big downer for them."
UK and Masters champion Selby complained of burn-out after his second-round defeat by Hawkins but Hendry said he had difficulty understanding how anyone could fail to find the motivation to play at the Crucible.
"I don't subscribe to the idea that burn-out affects you here," said Hendry, who played in 27 consecutive World Championships.
"This tournament should be so special that it allows you to ignore everything that's gone before. The excitement and the possibility of winning the tournament should get you through."
Hendry said he did have reservations about Ding's big-match temperament, adding that he would not be too surprised if Ronnie O'Sullivan - who faces Stuart Bingham in his quarter-final - made it world title number five, despite his near 12-month sabbatical from the game.
"The only thing that goes against Ding is he lets his frustration get to him," said Hendry.
"If he misses an easy ball it seems to affect him for two or three games and you can't afford to let that happen against the real top players.
"Ronnie's long game is not as good as it can be, but among the balls he's as good as ever and his safety play is excellent, as it always is.
"He was at 50% on long potting against Ali Carter in the second round but still beat one of the game's top players, that shows you how good he is."