World Snooker Championship 2013: Burnout debate rages on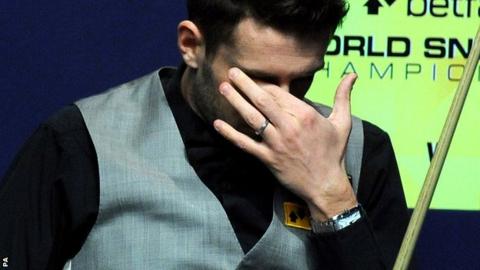 If you had asked a top snooker player four years ago about the dangers of burnout there is a chance he might have replied: "Can I get back to you on that? I'm off out to play golf, this handicap won't get itself down to scratch."
Such was the lot of the game's elite prior to Barry Hearn's takeover in 2010, when there were a mere six ranking events in a season and some players complained of having been reduced to part-time professionals.
"Why are we losing tournaments?" said Mark Selby in 2009. "It's a farce. The gap is so big between tournaments we could get another job."
In case anyone was wondering, this was the same Mark Selby who complained of being burnt out following his second-round defeat by Barry Hawkins at the Crucible on Saturday. Hearn stopped short of accusing Selby of ingratitude, but he didn't sound very happy when he spoke to BBC Sport.
"Burnout is not a credible excuse for a young man given the amount of money he is playing for," said Hearn, whose revamped, 50-week tour will include 12 ranking events from next season and offer £8m in prize money, up from £3.5m in 2010.
"The players have got to look at themselves and the preparation that other sportsmen put in, at their fitness levels, their diet - they have got to live a professional life. If they don't, they will get burnout."
The idea of snooker players as athletes might seem absurd to many - athletes wear lycra, the argument goes, not dickie bows - but the fact that Hearn was able to speak in such physical terms shows just how far the sport has travelled in such a short space of time.
As long as snooker was played for a few months of the year, its detractors - some of them from within the game - could easily dismiss it as little more than a cerebral pastime played by unhealthy looking men dressed as waiters.
But now that snooker is a genuine full-time occupation, taking in tournaments across the globe, its participants had better get themselves in some sort of nick: a healthy body is a healthy mind, as Ronnie O'Sullivan would vouch for.
And while Hearn is correct in his assertion that a more professional approach might mitigate against burnout, the very word "burnout" carries with it connotations of professionalism. Professionals get burnout, part-timers don't.
You might expect Stephen Hendry to be of the opinion that burnout is for wimps. But while the seven-time world champion does wonder how anybody could fail to get themselves up for the Crucible, he has a degree of sympathy for Selby and others who have grumbled about the rigours of snooker's new tour.
"It's the first time in snooker we've had this situation," Hendry, who retired after last year's World Championship, told BBC Sport. "And that's because the opportunities are better than they ever have been since Barry came in.
"I don't subscribe to burnout when you get to the World Championship - as soon as I walked through the doors of the Crucible, I forgot everything that had gone before in the season. But everybody is different.
"So it means players will need to manage their season a bit better, resist the temptation to play in everything. Mark Selby loves playing snooker and, by all accounts, is a tremendous practiser. But something's got to give.
"People will say snooker's not a physical sport, but it's one of the most mentally draining. Your concentration has got to be on it the whole time, even when your opponent is on the table. You've got to be ready to strike."
Snooker players suddenly have the same dilemmas that tennis players and golfers have had for many years: choosing which events to play in or skip, working out when they need to peak during the season, attempting to fit in some semblance of a family life.
And, as with tennis and golf, it will be snooker's elite players who will have greater freedom and flexibility. But only up to a point.
"You take the chance, under a ranking system based on prize money, of being replaced by people who do play in ranking events," added Hearn.
"If you want to stay where you are you have to make the effort, make sure your preparation is 100% and be successful, otherwise you'll slip down the rankings like a stone down an empty well. You'll be yesterday's hero.
"When you're young, you're keen; you want to make a new name for yourself and provide for your family, so you want to play in everything. We know who the big names are but they will be replaced by youngsters coming through."
"Who are the top players now?" added Hendry. "You're only a top player if you're winning. The rankings are changing all the time, the top 16 is changing all the time, it's very volatile."
Hearn mentions the word "evolution" a lot in relation to his grand snooker plan, and there is no doubt he is of a Darwinian bent: in Hearn's world, burnouts can be a positive thing, because they often presage glorious new beginnings.
So for the world's top snooker players the message is clear: less time on the golf course, more time on the baize, stay fit, choose your tournaments wisely. And if you do feel a bit of burnout coming on, the boss won't care.