World Snooker Championship: Barry Hawkins to meet Walden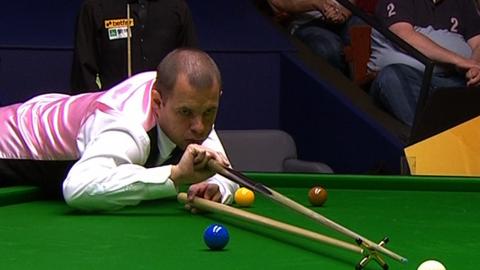 Barry Hawkins beat China's Ding Junhui 13-7 at the Crucible to reach the World Snooker semi-finals for the first time.
Hawkins, 34, led 9-7 overnight and won the first four frames of Wednesday's session to advance into the last four.
He will play fellow Englishman Ricky Walden, who beat Michael White 13-6.
"That was the biggest win for me," said Australian Open winner Hawkins.
"It's unbelievable. I'm delighted. I have nothing to lose."
Hawkins added: "I didn't sleep great last night and I woke up early this morning due to the nerves, but I managed to take the first frame today and that settled me down.
"I'm pleased with how I held it together at the end and we will see what happens in the next round. I'm just going to enjoy every minute."
Kent-based Hawkins had won only two of seven matches at the Crucible before this year but has now beaten Jack Lisowski, world number one Mark Selby and Ding.
World number nine Ding, a World Championship semi-finalist in 2011, played poorly and missed the brown with only the colours remaining when presented with a good chance to win the third frame of the session.
Hawkins, ranked 14th in the world, took that frame and the following one to seal the victory.
Walden resumed with a 10-6 lead against 21-year-old Welsh qualifier White and won the next three frames 56-51, 78-20, 69-44 to also book his first semi-final appearance.
The 30-year-old Walden said: "I'm overjoyed with that. It's been good so far and I'm pleased to be in the semis."
Hawkins has Terry Griffiths, the 1979 world champion, in his camp and 26-year-old Ding said he would like to work with a similarly experienced former professional to help improve his game.
"It might be good to get help from an old player's experience, but I haven't got anyone to help me, so I do everything myself," Ding said.
"I'd like to listen if they could tell me something I'm doing wrong."
He added: "I've only had one week off in the last year. I really need a holiday, just to be free for a day.
"I'm not disappointed. I can relax now. It's all over now."