Ronnie O'Sullivan v Judd Trump: Veteran v cocksure youth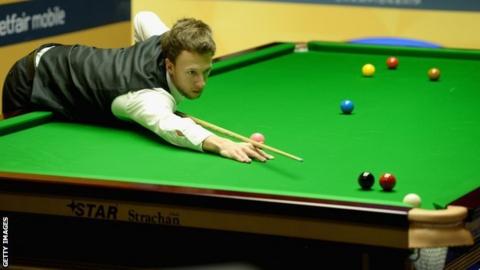 Your eyes do not deceive you - those are metal spikes on Judd Trump's Louboutin shoes.
And if you are brave enough to wear shoes with metal spikes, why not go the whole hog and attach a pair of spurs?
Jingle-jangle your way into the Crucible Theatre, set the scene for High Noon.
On Wednesday, a World Championship that has seen many of its so-called major players firing blanks finally went off. Trump taking down Shaun Murphy Ronnie O'Sullivan setting up the "semi-final that should have been the final" with a
For those present on Thursday it will be a case of step aside and take cover - and thank your lucky stars there's no longer a partition. Crucible upstart against proven winner, cocksure youth against flint-eyed veteran, unscarred kid against a man to whom doubts cling like barnacles. The glory hunter against the gnarled old pro who is only in town for one last hit
"People are just scared of him, scared of the name," said 23-year-old Trump, warming to the theme. "'Oh my God, I'm playing Ronnie! I can't win!' But this is the big stage, where I want to be, and I want to prove people wrong.
"Everyone thinks Ronnie's the best by a country mile, but I've beaten him more times than he's beaten me (Trump leads O'Sullivan 6-5) and my best is as good as his. I've heard from my brother that he hasn't played that well."
Nobody thought to ask what Trump's brother has been drinking lately but whatever his tipple, it apparently makes the sweetest snooker look dog ordinary. For everyone else I spoke to at the Crucible on Wednesday was of the opinion that O'Sullivan, 37, is playing every bit as well as when he won the title last year.
"It was flawless snooker against Stuart Bingham," said seven-time Crucible champion Stephen Hendry, who would recognise flawless snooker if you stuck chalk in his ears, a bag over his head and tied him up under the table.
"No-one has taken the game to a level that Ronnie has been playing. Knowing you have that in your locker means the other players are up against it."
"I lay on the bed in the hotel," said 1985 world champion Dennis Taylor, "watching that second session against Stuart Bingham, and thought, 'This is as good as it gets'. He just wasn't making any mistakes. It was as if he was putting the cue ball into position with his hand every shot, that's how good it was."
Someone should tell Ronnie. "I saw Ronnie in the restaurant at lunchtime," said two-time Crucible quarter-finalist Willie Thorne. "I said, 'Ronnie, I see you've had to come back tonight for one more frame'. And he said, 'yeah, I'm playing terrible'."
Inside the mind of a natural must be a dark, forbidding place: for O'Sullivan, that he led Bingham 12-4 heading into the final session wasn't a triumph. It was a disaster, because all he could think of was the fact he lost four frames.
After his eventual 13-4 victory, O'Sullivan, who has barely played since winning the title last year, revealed he only returned to the Crucible because he was short of a few quid, before adding that he's thinking of retiring for good.
"I've got five days left potentially - it could possibly be three," said O'Sullivan. "The light at the end of the tunnel is it doesn't have to go on any longer.
"I thought I'd come back just to see if being away from it might have made any difference. I've accepted that it's probably not for me."
O'Sullivan talks about his relationship with snooker as if it's a busted love affair he's tried to patch up. And as some who have tried to patch up a busted love affair will tell you, you're probably best just giving up and moving on.
One man's tortured genius is another man's ungrateful prima donna and there will be those who are weary of the "will he, won't he" soap opera that has seen the four-time world champion mount more comebacks than Frank Sinatra.
And you have to feel a bit sorry for the rest of the players when O'Sullivan, the greatest to ever pick up a cue and their sport's most high-profile ambassador, lets it be known that the game that they love and strive to master is, in his mind at least, tantamount to torture.
Which is why there will be many hoping that Trump bumps him off, so that perhaps a new king can be anointed, one who is less reluctant to wear the crown. To that end, Trump is making all the right noises.
"Ronnie is such a good front runner but get in front of him and see what happens," said 2011 runner-up Trump, referring to O'Sullivan's occasional habit of wilting under pressure.
"He's been in charge in all of his games so far, so he has an air of invincibility. But the way my game's matured I think I can crack him."
Alas, for Trump, while O'Sullivan says he might not be in it for the glory, he readily admits he could do with a few dollars more to pay the school fees. "I will fight to the death," he said. "They will have to scrape me off the table."
So clear the streets, stow away the glasses and prepare yourselves for High Noon. And remember, folks: the game actually starts at one o'clock.