World Snooker: Imperious Ronnie O'Sullivan divides and rules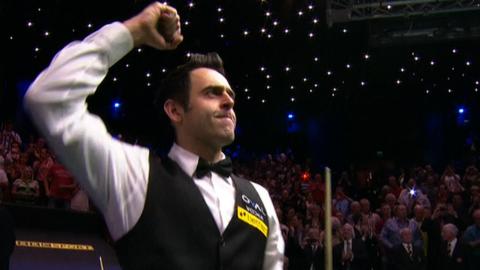 Huddled outside the Crucible's stage door after any given match during the World Snooker Championship is a gaggle of autograph hunters: 15 at most, mostly men, clutching pristine souvenir programmes and pens to their chests.
This is unless Ronnie O'Sullivan has just played, in which case the gaggle is swelled by women and small children.
"Where's Ronnie?" the kids ask, and you don't have the heart to tell them that their hero is in the press room, telling reporters he's only here for the money and doesn't really want to be here at all.
And you don't have the heart to tell them that he won't be leaving by the stage door, like other players do, and that he prefers to exit unmolested via a side entrance.
Which is not meant as a criticism of the man, for O'Sullivan is clearly more complicated than most.
Never mind it looked like he could have won the tournament playing with a broom handle, when he says he has spent the last 17 days wrestling with his demons then it is only right and respectful to believe him.
"People go on about how I blew everyone away but I wish people could walk a few days in my shoes," said O'Sullivan after his 18-12 victory over fellow Englishman Barry Hawkins in Monday's final.
"It might look easy, but maybe I'm more in the mould of Alex Higgins than Stephen Hendry. I'm more temperamental, I'm not a machine."
Six-time world champion Steve Davis accused O'Sullivan of disrespecting the game before his semi-final victory over Judd Trump and wondered aloud whether it would be better if the pretender prevailed. That O'Sullivan won with plenty to spare only served to complicate the issue in the minds of some fans.
No-one can question the genius of the man on a snooker table. Having rarely played at his best in reaching the final against Hawkins, O'Sullivan was imperious in securing his fifth Crucible title, rattling in six century breaks to surpass the previous record for a final. Few players in history could have lived with him.
But how damaging is it that snooker's finest exponent finds playing the sport such torture? And doesn't it make snooker look a bit silly when a man can take 12 months off, swan back in and carve up the field playing in second gear?
Rather than dwell on the game's perceived inadequacies, Shaun Murphy, the 2005 champion, preferred to heap praise on O'Sullivan, saying he'd "never seen anything like his comeback in sport". Davis, meanwhile, declared himself "in awe of what O'Sullivan has produced".
But Stephen Hendry wasn't so sure O'Sullivan's relatively serene progress to the final reflected well on the game.
"I've been disappointed by the top players," said the seven-time world champion. "They've failed to stamp their authority and it will be a massive downer that they haven't performed."
Hendry, who retired last year, added that snooker without O'Sullivan would be hugely devalued, like golf without Tiger Woods. Still, the Scot said he, too, found O'Sullivan's constant threats to retire wearisome.
"It would be better if Ronnie did his talking on the table," said Hendry. "It does get up other players' noses when he says these things. If he does want to retire, he should just retire. But snooker needs its best player."
Meanwhile, two-time champion Mark Williams, who lost in the first round, said the standard was as low as he had seen for 10 years. And the Welshman wasn't alone.
Almost everyone you speak to is of the opinion that this was an underwhelming tournament, while many contributors to snooker blogs and message boards will tell you this might be the poorest World Championship ever. Although, it should be added, opinions on the internet tend to veer towards the extreme.
While O'Sullivan made 13 of the 55 century breaks compiled this year, 71 were made in 2012, while the tournament record is 83. More worrying, classic matches were at a premium, with the quarter-final between Trump and Murphy, which Trump won 13-12, the only encounter that will live long in the memory.
World number one Mark Selby blamed his second-round exit on burnout, a new phenomenon on snooker chief Barry Hearn's expanded, year-round world tour.
And while some dismissed this as a convenient excuse - Hawkins, who played out of his skin in the final, has played more than 100 matches this season, more than any other player - sage observers think Selby's complaints are legitimate.
"Selby and Neil Robertson [the world number two who lost in the first round] played flat snooker and had nothing left," said John Parrott, Crucible champion in 1991.
"I don't think they'll be embarrassed at how easy it's been for O'Sullivan, because they've had a long, hard season and Ronnie's kept fresh."
Selby and co will have to decide how best to cut their cloth to stay alert and peak at the right times in the season, while making sure not to miss out on too many ranking points.
As it is, snooker commentator Dave Hendon, writing before the final, summed up the feelings of many: "The season may yet end rather like that infamous series of Dallas when Bobby Ewing, who had been killed off the previous year, returned in the shower, thus rendering the previous 12 months irrelevant."
Newspaper reporter Hector Nunns, who watches more snooker than most, agreed the sport needs new heroes to emerge, especially given that nobody knows how much snooker O'Sullivan will play in future.
"Selby said himself he didn't play well in winning the UK and the Masters this season," said Nunns. "And if the world number one is saying the standard isn't as good as it has been in the past, then it's safe to say it must be the case.
"Trump is one player who could grasp the mantle and lower down you've got people like Jack Lisowski, who's certainly capable of pleasing audiences and creating a bit of a stir."
Indeed, O'Sullivan's semi-final against Trump was the perfect riposte to those who claim personalities don't matter. Cocky upstart against mercurial old pro, it was enthralling stuff from start to finish, despite the fact there was only one century break in 28 frames. Forget the scoring, feel the frisson.
However, that old refrain about "no characters in the game" is, says Nunns, nothing but "a tired old cliché". They are there if you look for them, it's just that many of the sports editors in the United Kingdom only want to know about Ronnie.
To illustrate how far snooker has apparently fallen, the sport's detractors often trot out that other tired old line, the one about 18m people watching the 1985 final between Steve Davis and Dennis Taylor. But focusing on the UK market is far too parochial.
What these doom-mongers fail to mention is that this year's tournament was watched by hundreds of millions across the globe, the majority of them in China.
And those journalists who report from the furthest reaches of the tour will tell you that non-UK fans are less enamoured by the O'Sullivan soap opera and more likely to see all players as equal.
"Snooker as a sport is in a strong place without Ronnie," said Hearn. "Over the whole season we have been up on ticket sales and up on ratings globally.
"The game would miss him because he adds a lot. But we're building a fantastic circuit, with great young players and senior players earning lots of money. If Ronnie decides he wants to go and dig potatoes then good luck to him."
Who knows whether O'Sullivan will be back next year or digging potatoes or fitting kitchens on a barge. But it is not his problem that snooker has failed to unearth a worthy champion to replace him in his absence.
You feel for those kids, for whom waiting for Ronnie at the stage door is like waiting for Godot. And you feel for snooker when its brightest star says he doesn't want to be there. But you also feel for Ronnie, because the suspicion is he doesn't really mean it.