Stephen Lee match-fixing hearing date set
Last updated on .From the section Snooker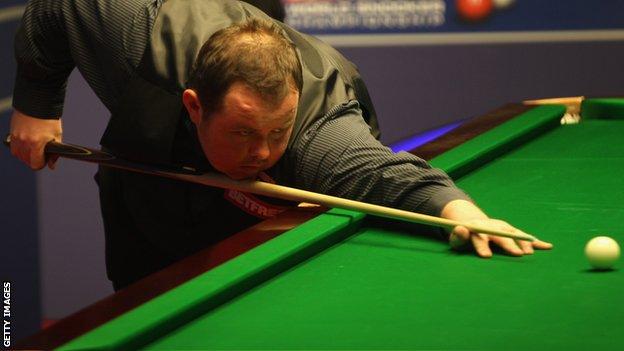 Suspended snooker player Stephen Lee will face a hearing on 9 September into allegations of match fixing.
Lee, 38, who has been suspended since October 2012, denies corruption allegations which centre on seven matches at four tournaments in 2008-09.
Sport Resolutions UK will hear the case which could lead to a lengthy ban.
In April, the World Professional Billiards and Snooker Association dropped proceedings regarding a Premier League match against John Higgins.
Snooker officials believed the separate Higgins case would have been prejudiced by the main inquiry - whatever the result - so decided to concentrate on that hearing.
A statement from the WPBSA said: "As per the WPBSA disciplinary rules, the WPBSA requested that Sport Resolutions UK appoint an individual to sit as an independent disciplinary hearing board to hear the case against him.
"On 7 March 2013 Adam Lewis QC was appointed by Sport Resolutions UK to act as the independent disciplinary hearing board. A timetable was set down for the proceedings and this was agreed by those representing Mr Lee.
"The WPBSA has met all the requirements set down by the independent disciplinary hearing board, unfortunately Mr Lee has not.
"This has caused significant delays to the process which have been compounded by Mr Lee changing his legal advisers on three occasions.
"On Monday, 17 June 2013, Mr Lewis set a new timetable for the proceedings and a date of 9 September 2013 for the case to be heard."
One of the games in which Lee, who was ranked eighth in the world at the time of his suspension, is accused of breaching rules took place at the 2009 World Championship.
He faces further claims involving three matches at the 2008 Malta Cup, two games at the UK Championship that year and one match at the 2009 China Open.
Lee is alleged to have provided information "that is not publicly available" and deliberately influenced "the outcome or conduct of a game or frame".
If found guilty of breaching snooker's rules in any of the matches under investigation, he could be given a sizeable ban.