Ali Carter: Snooker star 'to take it easy' after cancer operation
Last updated on .From the section Snooker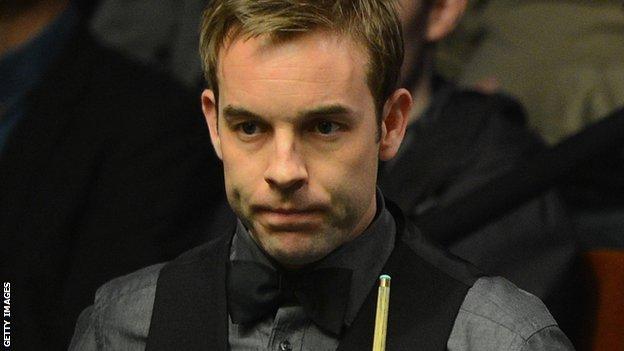 Ali Carter says he has been told "to take it easy for a month" after undergoing surgery for testicular cancer.
World number 15 Carter, 33, had been hoping to return to snooker within three weeks of the operation, according to the chairman of the sport's governing body.
Carter tweeted after surgery on Tuesday that the operation had gone well.
But he added he was "feeling very sore" before thanking fans for their support.
Earlier, World Professional Billiards and Snooker Association (WPBSA) chairman Jason Ferguson told BBC Sport that Carter could be back for an event in Rotterdam on 19 July.
But that now appears unlikely.
"Hi everyone. Surgery went well, am feeling very sore and been told to take it easy for a month," Carter's message said. "Thanks everyone. You have been a massive strength."
Carter will now undergo a course of chemotherapy.
The length of his rehabilitation could be complicated by the fact he is a sufferer of Crohn's disease - an autoimmune disorder that affects the digestive system.
Chelmsford-based Carter, who was diagnosed with Crohn's in 2003, is a two-time World Championship finalist, having lost to Ronnie O'Sullivan on both occasions, and earlier this year won his third ranking title by claiming the German Masters.
"He's one of ours, one of our own and we're concerned about him," said Ferguson, a former player who underwent an operation for skin cancer last year.
"Ali's one of the toughest characters on the circuit. He's a very fine young man and I really do feel for him.
"He's got a great playing record and is one of the greatest cueists in the game.
"He has had a tough run, but he's battled and battled and come through and that tells you what you need to know about his character."