Australian Open: Mark Selby beats Ian Burns in first round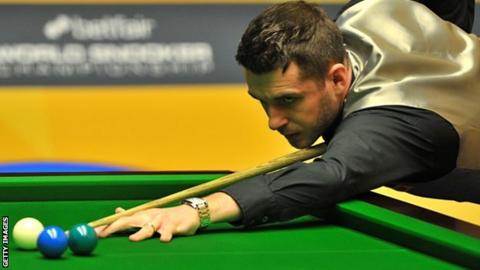 World number two Mark Selby fought back from 3-0 down to beat Ian Burns 5-4 in the first round of the Australian Open.
Selby trailed throughout the match in Bendigo before winning the final two frames to snatch victory over the world number 68.
Selby will play China's Zhang Anda, who beat England's Andrew Higginson 5-1.
Elsewhere, Shaun Murphy defeated Michael White 5-1 and Fergal O'Brien won 5-4 against 2013 World Championship semi-finalist Ricky Walden.
Selby has had a mixed start to his season, failing to qualify for the season-opening Wuxi Classic and then losing his world number one ranking to Neil Robertson.
But, although he never led the match until the final frame, Selby remained calm, knocking in breaks of 48 and 47 in the decider to progress to the last 16.
"I didn't do that much wrong in the first three frames, Ian played well," UK and Masters champion Selby told World Snooker's website. "After that I had to dig deep to get back into the match.
"The table plays very fast and that's difficult to get used to, I didn't adapt to it as well as Ian did.
"He had a couple of good chances at 4-3 to put the match away but maybe he felt a few nerves as he doesn't have much experience at the venues, and I managed to fall over the line in the end."
In the day's remaining matches, Dominic Dale edged past Mike Dunn 5-4, Joe Perry whitewashed Xiao Guodong 5-0 and Alfie Burden beat Michael Holt 5-2.