Kyren Wilson: Kettering potter eager to seize second chance
By Owen Phillips
BBC Sport
Last updated on .From the section Snooker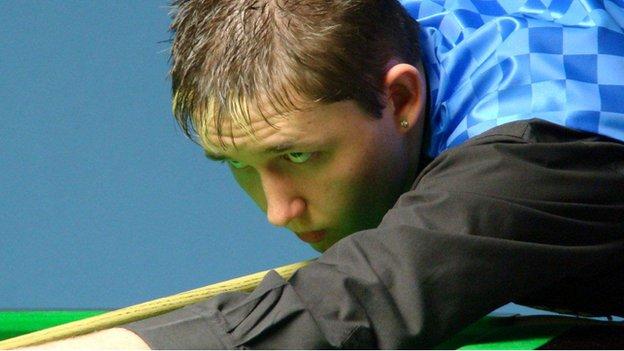 It didn't take a genius to work out that anyone who could beat a future world champion at pool at the age of six had bundles of talent.
But Kyren Wilson's path to competing with snooker's elite has not been quite as smooth as many predicted since that eye-catching victory over Peter Ebdon at a charity event 15 years ago.
Wilson, from Kettering, turned professional in 2010 and qualified on the main tour for the 2010-11 season, but failed to retain his place for the following term.
"Once I dropped off the main tour I had to go and get a real job, so I used to have to spend half a day behind the bar where I practised in Northampton and half a day practising," the 21-year-old told BBC Sport. "It was tiring and put things in perspective and made me appreciate my snooker so much more.
"My mum said it was great for me and gave me the motivation I needed. Maybe I did take it for granted.
"The two years I had off the tour when I had to go and get a job made me realise how easy I had it as a snooker player. Not working and earning good money by just playing snooker was great. It's just doing something I love."
Wilson's link with 2002 world champion Ebdon has remained ever since the two first crossed paths in 1998.
Although Ebdon now lives in Hungary, he has retained a keen interest in Wilson's progress and Wilson is a huge fan of the man he cites as a massive influence.
"I beat him in a game at a charity pool night," Wilson recalls. "And he said to my parents that I had natural talent and they should get me playing snooker.
"He has kept his eye on me since that charity game. Peter has been great and is always such a professional with his approach and everything he does - even the way he dresses.
"He is a real role model for me. He just has this aura and he does everything right."
Ebdon's help, coupled with Wilson's renewed focus, certainly seems to be paying off in the early stages of this season. He qualified for the Shanghai Masters and plays Stuart Bingham in his first-round match on Wednesday.
Wilson had to win four matches to secure his place and he has been delighted with his return to the tour.
"It's awesome to win four matches and it feels like you have really earned it," Wilson said. "Qualifying for Shanghai the old way was special.
"It was so tough having to beat three good matchplay players in Barry Pinches, James Wattana and Marcus Campbell. It takes it out of you a bit but it's massive for your confidence.
"To beat good players and make such a good start early on in the season will hopefully set me up."
Wilson is determined to make the most of everything that comes with playing against the world's best in China.
"I need to milk it," he added. "We will get treated so well out there with the red carpet and everything that goes with it. It will be surreal.
"People just keep saying I should enjoy it which I am determined to do. But you also have to pay the bills!
And although he admits to getting a bit homesick on his travels, he has his fiancee Sophie to keep him company in Shanghai - and also for the Indian Open which Wilson has also qualified for.
"It's great she's there," Wilson said. "And she will enjoy visiting the markets!"