Ronnie O'Sullivan asked to explain Stephen Lee comments by Hearn
Last updated on .From the section Snooker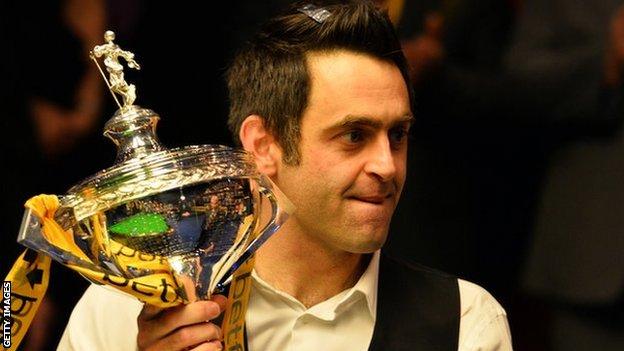 World Snooker boss Barry Hearn has asked Ronnie O'Sullivan to explain his comments after the world champion said Stephen Lee is not the only player guilty of match-fixing.
"I've heard there's many more players who throw snooker matches," five-time world champion O'Sullivan tweeted.
Hearn called the allegations "wholly unacceptable and extremely damaging".
In a statement, Hearn added: "If he has names and he knows of incidences, he has an obligation and a duty to report them and failure to do so will put him in breach of his player's contract.
"We take these type of allegations very seriously. We have written to Ronnie asking him to explain his comments and to provide details of any match-fixing and the names of the players that he is referring to."
O'Sullivan later added he had "no concrete evidence of match fixing in snooker," but hinted players were aware of who might be involved.
In the full verdict on Lee, delivered on Monday, there was no suggestion that any other player had colluded with the former world number five's corruption.
O'Sullivan, 37, added: "I suppose Steve Lee was just caught out.
"No need to worry if you got nothing to hide. But plenty of people have got loads to hide. That's why there is no free speech. They're hiding.
"They will prob (sic) fine me for talking about it. They don't like you doing that. Like to keep things under the carpet."
Lee denied the allegations but a tribunal adjudged that he deliberately lost games against Ken Doherty and Marco Fu at the 2008 Malta Cup.
He was also found guilty of agreeing to lose the first frame against both Stephen Hendry and Mark King at the 2008 UK Championship and throw matches by a pre-determined score to Neil Robertson at the 2008 Malta Cup and to Mark Selby at the 2009 China Open.
He similarly conspired to lose his 2009 World Championship first-round match to Ryan Day, going on to be defeated 10-4.