Stephen Lee match-fixing: Neil Robertson backs life ban
Last updated on .From the section Snooker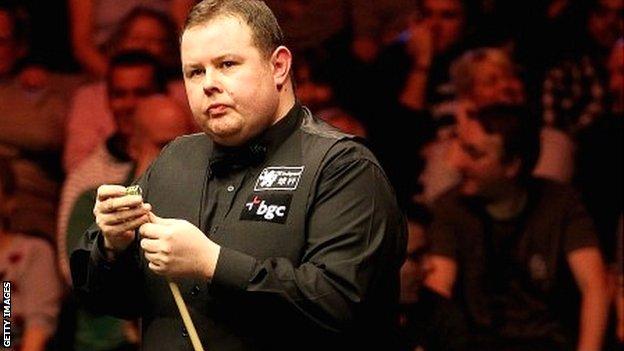 Former world champion Neil Robertson hopes the Stephen Lee case will ultimately help eradicate match-fixing.
"That is important as a deterrent," Robertson said. "We have to show zero tolerance on match and frame-fixing.
"There is no other option than a life ban," the 31-year-old added.
"There may have been players offered things in smaller events, and this should cut all of that out.
"I am not sure how this verdict can be damaging to the sport in the long term. A guy has been found guilty of cheating and faces a life ban.
"And that comes after he was suspended for almost a year. It gives me confidence that the governing body are doing it thoroughly: these are hard cases to prove."
Robertson said match or frame-fixing in snooker should be viewed differently from doping in cycling or athletics.
"It is greed or financial difficulty that makes people fix matches, not gaining an edge over rivals, so it is different from say Lance Armstrong or Ben Johnson."
World Snooker boss Barry Hearn said every professional match would now be monitored in an attempt to rid the sport of cheating.
In addition, special integrity units now look for suspect trends in games and are in regular contact with bookmakers to detect unusual betting patterns.
"It is a problem in snooker and sport, and snooker is doing something about it," said Robertson, who won the world title in 2010.
"The governing body have stuck their necks out here after the Crown Prosecution Service decided not to press criminal charges.
"You must have young players looking at it, or players struggling to make a living on the table, and knowing this is not the way to go. And this will make everyone more alert."
The left-hander added: "There will be no-one taking risks or trying to nick a few quid on the side because the authorities can see everything.
"You don't want to be tarred with the same brush, by association. But it is a difficult sport and pressure can make you miss shots, that's why it is so hard to prove."
Lee's case prompted world champion Ronnie O'Sullivan to tweet: "I've heard there's many more players who throw snooker matches."
Hearn insisted O'Sullivan should elaborate on his claims and said: "World Snooker will be writing to Ronnie to say that under his player's contract it is his responsibility to report any incidences he's aware of and failure to do so would lay him open to a charge of bringing the game into disrepute.
"There's no point in making vague announcements, if he knows something he has a responsibility to be specific and World Snooker will be writing to him on that basis."
O'Sullivan later responded by admitting he had "no concrete evidence of match-fixing" and, in reference to Hearn, said: "Barry, I think we need another cup of tea... I've been a naughty boy."