Ronnie O'Sullivan: 'Match-fixing' comments worry sponsors
Last updated on .From the section Snooker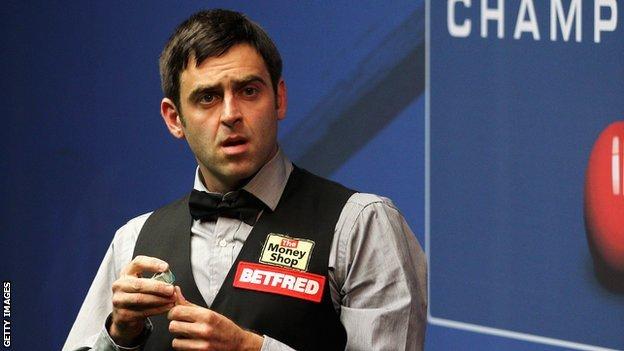 Worried sponsors have contacted snooker's governing's body following Ronnie O'Sullivan's comments that corruption in the sport is rife.
World Professional Billiards and Snooker Association chairman Jason Ferguson called the five-time world champion's claims "absolute rubbish".
He also told him to act "in a manner befitting a professional sportsman".
O'Sullivan has retracted the claims he made after Stephen Lee was found guilty of seven counts of match-fixing.
WPBSA chairman Ferguson said: "We have had contact from sponsors concerned about Ronnie O'Sullivan's comments, that have now been retracted and were without substance.
"I travel the world promoting a sport that involves gentlemanly behaviour and fair play, and I have had comments expressing serious concern."
Following the verdict on Lee last week, O'Sullivan tweeted: "I've heard there's many more players who throw snooker matches."
A few days later he claimed his comments were taken out of context and that he had no intention of damaging the integrity of the sport.
Ferguson added: "We have worked very hard to get snooker clean. When someone comes out with absolute rubbish it undermines the good work and it isn't just anyone, it is our world champion."