Ding Junhui & Xiao Guodong final boosts snooker in China
By Hector Nunns
Snooker writer
Last updated on .From the section Snooker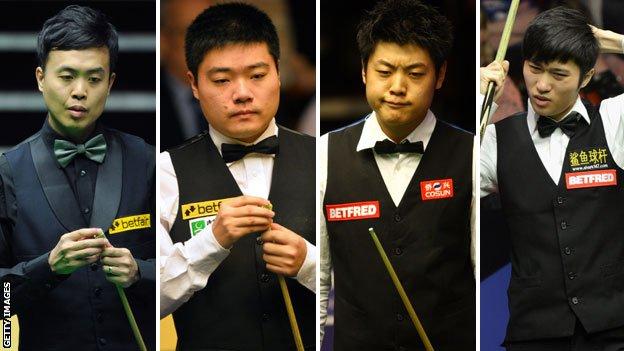 The first ever all-Chinese final of a ranking tournament at the Shanghai Masters between Ding Junhui and Xiao Guodong rewarded event organisers who had endured headlines all week about match-fixing, Stephen Lee and the absent world champion Ronnie O'Sullivan's swiftly retracted tweets.
There have been extreme predictions in recent years that Ding might prove the commander of a Chinese battalion that would swiftly take over the snooker world.
Though China now stages five of the season's 11 full ranking events, and other minor tournaments, there simply has not yet been a rush of younger players joining Ding as a genuine title contender.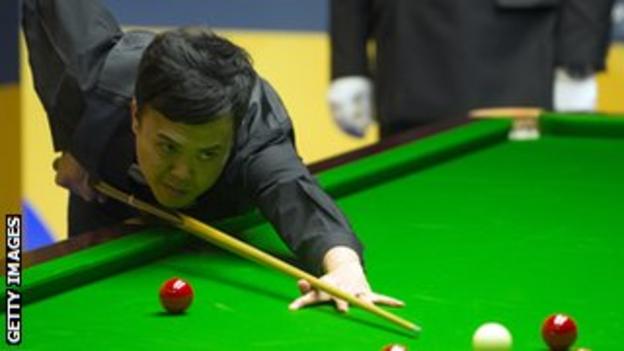 Hong Kong's Marco Fu, 35, added the Australian Open title this summer to his Grand Prix win of 2007, and Liang Wenbo reached the final of this tournament four years ago - but that pair aside and before Xiao's exploits, the Chinese players have largely been filling up places in the lower reaches of the rankings, quietly gaining valuable experience.
However the landmark nature of Sunday's historic showpiece, won by Ding 10-6 at the Grand Stage to claim the £80,000 first prize and a seventh ranking title, shows that Xiao, at least, is much closer to being able to share Ding's standard-bearing load - and his run may yet open the floodgates by inspiring the rest of the 16 current Chinese tour professionals.
"It was an incredible, historic match to have two players from my country in a ranking final for the first time," said Ding after a match which saw the two players warmly embrace after the final balls were potted.
"But I believe this is going to happen more in the future. And I hope what has happened here will be an example and an inspiration to other Chinese players, professionals and young kids. The ones already based in the UK need time and experience on tour, and they can make it."
Ding is unquestionably a huge star beyond the confines of snooker in China, his status is up there with women's world number five tennis player Li Na, men's Olympic and world table tennis champion Zhang Jike, Olympic swimming champions Sun Yang and Ye Shiwen, and men's Olympic and world badminton champion Lin Dan.
And together with his Sheffield house and Beijing flat, Ding's reported off-table earnings of almost £1m a year dwarf both what he will win in prize money barring a quite exceptional season, and the sponsorships of any other player on tour.
According to the all-powerful Chinese Billiards and Snooker Association (CBSA), Ding represented a one-man first wave when he emerged more than a decade ago, uprooting from his home in Jiangsu province and moving to Northamptonshire - where former world champion Peter Ebdon was the first to publicly predict great things for him and his country.
Xiao is part of a second wave that also includes Liang and Cao Yupeng. Liang briefly looked as if he might overhaul Ding in the world rankings, reaching a World Championship quarter-final at the Crucible in 2008, and finishing as runner-up in the 2009 Shanghai Masters.
And what the CBSA see as a third wave is headed by 15-year-old tour rookie Lyu Haotian, already a ranking event quarter-finalist as a wildcard in Chengdu last season, and amateur Zhao Xintong. Yuan Sijun, aged just 13, took part in the Shanghai Masters as a wildcard, losing to Xiao.
Ding's supremacy at home has been challenged only once, and had he lost to Liang in the first round at the Crucible in 2009, he could have forfeited his prized place as China's number one. Ding closed the door with a 10-8 win. The emerging rivalry led inevitably to 'Great War of China' headlines, but in truth even if Ding's nose was temporarily shunted out of joint, the pair remained friends.
Liang has slipped away from the top 16, and Xiao now looks the next realistic contender. His progress up the rankings has been steady and consistent, and as a result of his week in Shanghai he has risen to a career-high of world number 28, responding well to the work of coach and former world champion Terry Griffiths.
There are growing pockets of the Chinese professional tour players around the UK. The relationship with players from the established countries has not always been smooth, with Mark Allen - ironically twice a ranking event winner in China - accusing Cao Yupeng of dishonesty during his surprise first-round defeat by the Chinese player at the World Championship in 2012. Allen later apologised for the comments.
And even in Shanghai, there was the odd murmur back stage from British players claiming a lack of etiquette around the table and walking through eye lines ahead of shots.
Also the controversial wildcard system used for China, where young home talents are parachuted in while others have to fight to qualify, now looks obsolete having served its purpose of helping the sport develop in a new territory.
The foundations are now there in China, all underpinned by political and financial support other sporting bodies could only dream of. The new academy in Beijing, opened this year and a superb practice facility equipped with 'Hawkeye' style technology and also used to train coaches and referees, looks certain to bear further fruit.
The current number of snooker clubs in China is estimated by the CBSA to be at 100,000 and growing, and the Chinese media believe there to be at least 10m playing the game regularly or occasionally. In the build-up to the Shanghai Masters, a national amateur event saw 5,000 entries with the winners involved in an exhibition featuring Steve Davis and John Higgins.
And snooker holds a strong place in the sporting hierarchy. Major tournaments are all shown either live, as live later in the day, or in highlight form on dedicated national sports channel CCTV5, with audiences of 100m plus for the big matches featuring Ding.
The game shares airtime on CCTV5 with football from China and around the world, and last year coverage was switched away from the HSBC World Golf Championship event at Mission Hills, Shenzen to cover the final of the International Championship in Chengdu, won by Judd Trump.
With the glaring exception of football, when China turns its mind to being good at a sport, it generally succeeds. And this milestone final could herald the start of an era where the country as a whole begins to punch its snooker weight, rather than leaving it all to Ding.