Indian Open snooker: Delhi ready for first ranking event
By Shamoon Hafez
BBC Sport
Last updated on .From the section Snooker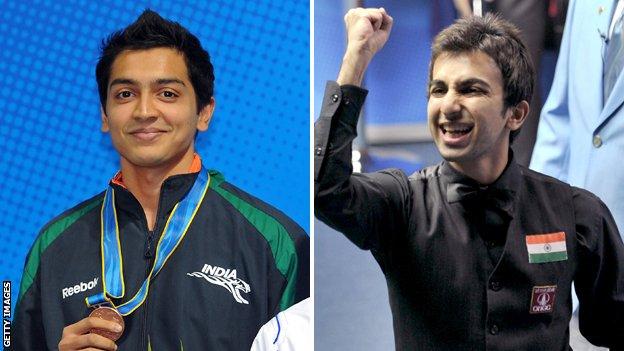 India's Pankaj Advani has hailed a "huge moment for Indian sport" with Delhi primed to host the country's first snooker ranking event.
World number 70 Advani and fellow countryman Aditya Mehta, ranked 72nd, have both qualified for the tournament.
"It will be an eye-opener and will act as a catalyst to develop the sport," said Advani, the first Indian to reach the quarter-final of a ranking event.
"The interest in the event is already fantastic," Mehta told BBC Sport.
Advani, 28, plays Scot Marcus Campbell, while 27-year-old Mehta faces former world champion Peter Ebdon in the first round.
The nation's top two players feel it could be a breakthrough moment for the sport in a country which has a population of over 1.2bn people.
"It is good that both players from India have qualified for the event," said Advani, who comes from Pune.
"It is the first time that fans in the country will get to see live snooker being played at the highest level. With it being held in the capital, it will create a huge impact.
"But it is important that we perform well so that organisers can use us to further develop the game and inspire youngsters to make their mark."
Maharastra's Mehta described it as "exciting times" and said: "It would have been a big disappointment if neither of us got to play in the tournament.
"We have been travelling all around the country doing interviews and the enthusiasts in India will be flocking from all over to watch the event.
"Cricket will always be number one in India and fair play to them but we are hoping to build a snooker culture now."
The pair have played each other on numerous occasions on the Asian circuit, with Mehta beating his compatriot in the final of the 2012 Asian Snooker Championship, but they have never met on the professional tour.
And the duo - who now live in Sheffield and practise at the academy in the city - say there is a friendly competitiveness between them.
"It is always good to have someone who pushes you harder so that you play better," said Mehta, who won gold at this year's World Games in Colombia.
"When we are both performing to a good level, it acts as a motivation and as long as we can both keep doing that, keep challenging each other for results we will both move forward.
"That is what I lacked in my first two years on the professional tour but having him here now means we have a good rivalry."
Advani, a record eight-time world billiards champion, added: "We have a healthy rivalry but our main purpose is to take our own game to the next level."
Seven players - Ali Carter, Dave Gilbert, Tony Drago, Anthony Hamilton, Kyren Wilson, Yu De Lu and Liam Highfield - have withdrawn from the Indian Open for various reasons, but organisers say it has nothing to do with the cyclone that has swept through the Bay of Bengal.
Thousands of people have been evacuated as the severe weather hits the south-east of the country, although it is not forecast to reach Delhi in the north.
World champion Ronnie O'Sullivan has not made the trip but world number one Neil Robertson, Shanghai Masters winner Ding Junhui, John Higgins and Mark Selby will all be in action.