Joe Perry benefiting from Neil Robertson help
Last updated on .From the section Snooker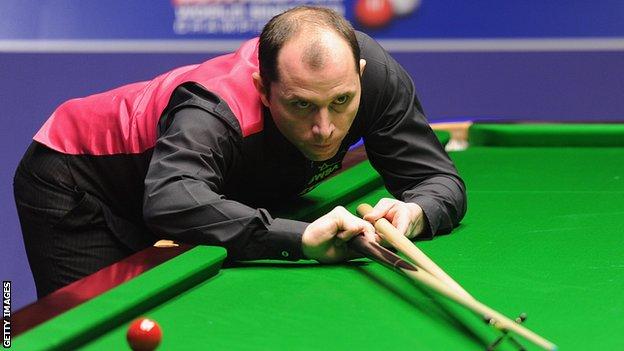 Cambridgeshire's Joe Perry has said practice partner and world number one Neil Robertson can take a small part of the credit for his upturn in form.
Perry won his first ranking tournament this year and reached the semi-final of last week's International Championship.
"Because I play in the same club as Neil, I'm starting to pick the bones out of what he does now," he told BBC Radio Cambridgeshire.
"Maybe that's made a difference. It's the only thing I've really changed."
Chatteris's Perry and former world champion Robertson practice at Willie Thorne's snooker club in Cambridge.
Perry, 39, helped the Australian adjust to life in the UK when he moved over from Melbourne in 2004.
"I've noticed how he works his practice up to the major events. Before I was just practising non-stop for everything. He sort of builds up to the bigger events," said Perry.
"I've pulled that in a little bit to my preparation.
"When Neil came over he was nothing like the player he is now and has turned into the world number one - the most feared player on the circuit.
"I helped him when he first came over, so now it's my turn to get a bit of help back."
Perry is in the midst of possibly the best two years of his career, climbing up to 18th in in the world after this season's success and reaching the quarter-finals of the Shanghai Masters in 2012-13.
"I've learned to realise when things are going well and when they're going not so well out there and how to deal with it," he said.
"My management company employ [former player] Terry Griffiths as a coach. He mainly works on the mental side of it, which is something I've never done throughout my career.
"It definitely makes a difference when things aren't going well - you try not to let things get you down."