Stephen Lee: Snooker player's match-fixing appeal adjourned
Last updated on .From the section Snooker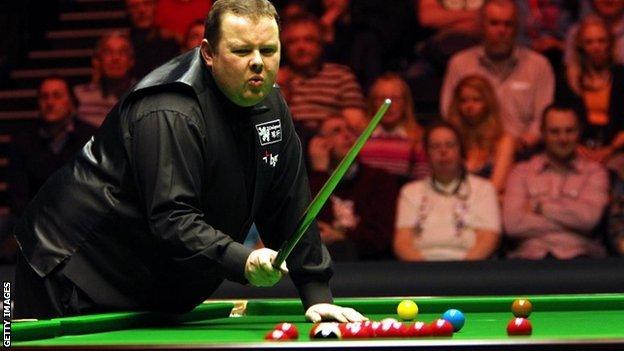 Snooker player Stephen Lee's appeal against a 12-year ban for match fixing has been adjourned until 17 February.
The first part of the appeal process began in London on Thursday.
Former world number five Lee was found guilty of seven charges after a tribunal hearing in September.
The 39-year-old claims that tribunal chairman Adam Lewis QC was not independent, but snooker bosses reject this and say Lee could have objected before his case was heard.
The first stage of his appeal was at an undisclosed location in London, with the player's legal team arguing that Lewis was not independent because he had previously carried out work for Leyton Orient Football Club, whose chairman is World Snooker chairman Barry Hearn.
Edwin Glasgow CBE QC is chairing the appeals panel, supported by a tribunal solicitor.
If Lee's claim that the original hearing was unfair is rejected, a new date for an appeal will be scheduled. If his claim is upheld, the case may have to be heard again.
Lewis, who has been a QC for nearly 20 years, has covered a wide range of sporting cases in his career, including work with the Football Association, Rugby Football Union and UK Athletics.
He was appointed to hear the Lee case by the independent service Sport Resolutions, which is overseeing the appeal process.
The player is also appealing against the decision to find him guilty, the ban and being ordered to pay £40,000 costs, although this matter will not be heard until the first stage of the appeal is completed.
The World Professional Billiards and Snooker Association (WPBSA) said Lee was involved in "the worst case of snooker corruption that we've seen".
Lee, who has been a professional for more than 20 years and has won five ranking titles, was found to have fixed outcomes in seven matches in 2008 and 2009, including a World Championship match.
In a 35-page summary of the case following a hearing in Bristol, Lewis said three groups of gamblers made a total profit of nearly £100,000 from betting on Lee's matches.
Lee says he has evidence that will prove he is innocent of match-fixing, including money trails and statements from other players.
The tribunal ruled he deliberately lost matches against Ken Doherty and Marco Fu at the 2008 Malta Cup and agreed to lose the first frame against both Stephen Hendry and Mark King at the 2008 UK Championship.
In addition, Lee lost matches by a predetermined score to Neil Robertson at the 2008 Malta Cup and to Mark Selby at the 2009 China Open.
Lee, from Trowbridge in Wiltshire, was also found to have conspired to lose his 2009 World Championship first-round encounter with Ryan Day, a match in which he was beaten 10-4.