Masters 2014: Robert Milkins inspired by family focus
By Owen Phillips
BBC Sport
Last updated on .From the section Snooker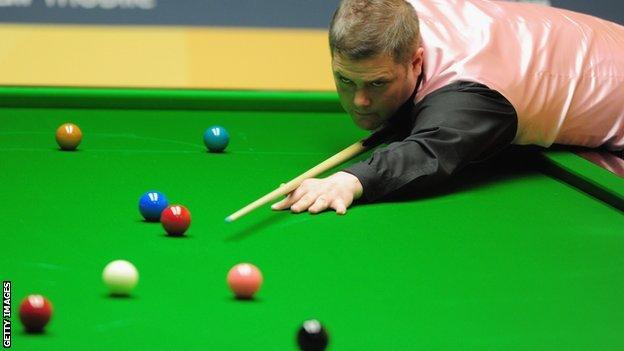 There was a time you couldn't drag Robert Milkins out of the pub and into the snooker hall.
One of the most naturally talented players on the tour was barely playing.
Instead he was drinking heavily, gambling, going through a divorce and in such a financial mess that the bailiffs were knocking on his door.
A few years later and the transformation from "rock bottom" to the sport's elite is remarkable. The amiable Bristolian is itching to get back on the baize after a much anticipated and well-earned, if not entirely restful, Christmas interlude.
The two weeks spent with his partner Ela and their two young children, Charlie, three, and 21-month-old Elisha, were a pleasure - but he is exhausted.
"I loved the time off, but to be perfectly honest I couldn't wait to get back practising after a couple of weeks off," Milkins told BBC Sport with more than a slight chuckle.
"I hope it gets easier as they get older. At least when they are a bit older you won't have to keep an eye on them all the time. When they are so young it's hard work."
But it's not just sleep deprivation, nappy changing and the endless hours glued to CBeebies that makes a return to work so appealing.
The motivation is now there too. Qualifying for his first Masters after 19 years as a professional is a big deal, and so is facing world champion Ronnie O'Sullivan in the first round at Alexandra Palace on Tuesday.
"It's been on my mind for quite some time - playing at the Masters," Milkins, 37, said. "It's such a prestigious tournament and all that goes with it. And the atmosphere is meant to be great at Ally Pally.
"I am really looking forward to it even though I have a tough match."
Certainly it was tough for Milkins the last time they met.
The world number 13 was brushed aside 6-0 by O'Sullivan in the UK Championship at York in December.
"I did get a pasting but I should have won the first frame and I should have won the second," Milkins recalls.

"I missed easy balls and you can't do that against Ronnie.
"He had a good break to go 2-0 and I broke off the next frame and he did a total clearance to go 3-0 and it was match over. You can't miss pinks off the spot against Ronnie."
But the Gloucester-based cueman is not daunted by the challenge the Rocket presents. Far from it.
"People talk about Ronnie but Neil Robertson is the best in the world at the moment," Milkins said. "Drawing him, Ronnie, Ding or Selby is equally as bad.
"In fact Ronnie is probably the best I could have drawn because of the atmosphere, which will be great.
"He is the sort of player who can get on top of you. But if I rise to the occasion [as he did when he beat Robertson in such style at last year's World Championship] I can put a lot of pressure on him."
Milkins is convinced the festive malaise will have long since passed when he does sample his first Masters experience on Tuesday evening.
This season started well enough, with Milkins building on his run to the last 16 at the World Championship by reaching the semi-finals of the Wuxi Classic and the last four of the Australian Open.
But Milkins said: "The form has not been the best coming into the Masters.
"Christmas is quite awkward. We don't get much time off during the season, and when I came back after the break and played in the Championship League I didn't really have enough practice.
"If you don't get the time on the table it's tough to keep the sharpness. But it's the matches that count. I will get some decent practise in and be ready."
And the level to which he was neglecting his snooker while he enjoyed some quality family time pales into insignificance in comparison to the times "around 2006 to 2007" when he almost wrecked his career.
"I totally hit rock bottom with almost everything - with my finances, getting bailiffs knocking on my door and all sorts," he said. "I was playing half a day a week and went down to 71 in the world.
"I was on a bad, bad spiral. I was virtually off the tour and I had to turn it around.
"In the end I just gave up on the finances. I got to a stage where it didn't bother me. I was avoiding everyone. I needed a kick up the backside.
"But some good friends got hold of me and took me in. I lived with them and they stopped me going out and drinking five nights a week. My friends and manager Paul Mount helped me out - he has been great to me."
The improvement was not instant, but the dedication started to pay off after reaching the quarter-finals of a ranking event in Bahrain in 2008.
"When you're down to 71 and get to the quarter-finals of a ranking event it pushes you up about 20 places in the rankings," he said. "That was the turning point and since then I have not looked back."
Despite the terrible depths of the lows, Milkins believes it ended up doing him good.
"It's long gone but I wouldn't even change it," he said. "I can't look too much in the past, I have to get on with it."
Although the sense of perspective regarding his sport shines through, he remains ambitious. And there are some regrets on that front. Milkins has no doubt he should have made more of his talent.
He is still desperate to win a ranking event, having only reached the semi-finals of four major tournaments in his career to date.
Milkins added: "I do know one thing - and not blowing my own trumpet - that in the early stages of my career I definitely underachieved. That's why it took me so long getting up the rankings.
"A lot of players can say that. But I just know I was a decent player when I was younger but when I got to the TV stages I froze in front of the cameras.
"That's where the money is and where the ranking points are. I didn't handle the pressure very well.
"Now I don't even notice the cameras - but then they were always in the corner of my eye."
Now his focus is split between snooker and wandering toddlers, not a little bit of snooker and the bottom of a beer glass.
Time is precious and more pressured. But 'the Milkman' is more than coping.
"Life's good, my two young kids are the priorities in my life - not snooker so much.
"We are away almost half the year playing snooker, if you add it all up. But I did get to spend quite a bit of time with them at Christmas. And you relish the time you do get more.
"They make me happy and if am happy, I start playing a bit better."