Welsh future is good despite Masters 'lull' - Terry Griffiths
Last updated on .From the section Wales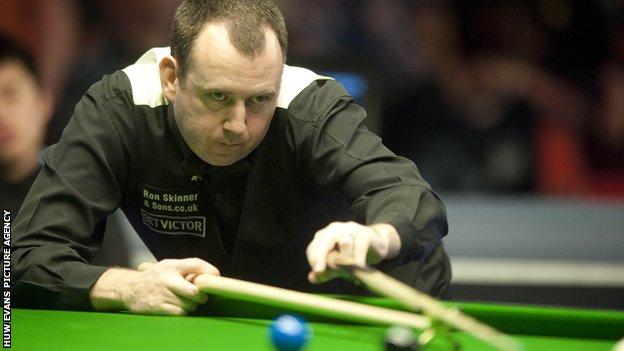 Terry Griffiths believes Welsh snooker has a bright future despite the lack of representation at one of the sport's most prestigious tournaments.
The Masters, being held at Alexandra Palace, has no Welsh players for the first time in its 39-year history.
Griffiths is disappointed with the lack of Welsh representation but hopes it will not be repeated.
"The future is good but at the moment there's just that one year lull I hope," said the 1980 champion.
Griffiths, world champion in 1979, believes changes to the international snooker circuit has impacted on players such as Mark Williams and Matthew Stevens.
The world's top 16 players are no longer guaranteed a place in the latter stages of most ranking events with 128 professionals required to play from round one in eight major tournaments.
"With the new circuit I think it has changed things a little bit," Griffiths told BBC Radio Wales Sport.
"The ranking system has changed totally this year. It's a money list now but also the top players are in at the first round.
"It is quite a dramatic change but I think it's much better for the game. It gives a lot of new professionals a better chance to compete against the top players.
"There's a lot of good players out there and it's a very competitive sport now.
"But I think there will be more [Welsh] players coming along.
"Michael White, Jamie Jones, Daniel Wells are on the circuit. You've got three professionals from Neath which is an exceptional performance for a small town.
"We've got a good crop of young players coming through the Welsh Billiards and Snooker Association.
"We're not doing as well as the Chinese, but who is?"
The Masters, first contested in 1975 when John Spencer beat Welshman Ray Reardon in the final, is one of snooker's most prestigious tournaments.
Reardon won the Masters in 1976 followed by Doug Mountjoy 12 months later with Griffiths the winner in 1980.
Mark Williams is a two-time winner and Matthew Stevens won in 2000 but the Welsh pair are not at Alexandra Palace this year.
Both players are not among the top 16 players in the world meaning they were not eligible to take part in the Masters, although Griffiths believes they can return to snooker's elite.
"Matthew and Mark, who are at the top Welsh stars at the moment, don't seem to be in the best form," Griffiths said.
"Matthew is just outside the top 16 and so is Mark Williams. They didn't quite make it in. I dare say Matthew and Mark will get back into the top 16.
"Perhaps Matthew and Mark have lost a few early rounds because there are good players even in the lower ranks of the professional game these days.
"That makes it more difficult to push up the rankings more quickly and there's a cut-off point now during the season to say who is in the top 16."