Masters 2014: Neil Robertson and Ricky Walden take tense wins
Last updated on .From the section Snooker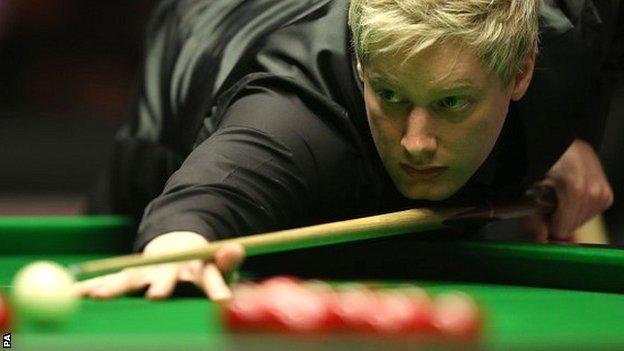 World number one Neil Robertson claimed the final two frames to beat Mark Allen 6-5 in the opening round of the Masters at Alexandra Palace in London.
Allen won the opening frame with a 114 break but Robertson took the fourth on the black to level at 2-2.
Robertson never led but stayed within a frame and a 59 in the decider sealed a quarter-final with Stephen Maguire.
Ricky Walden won the last four frames to beat Barry Hawkins 6-5 and faces Ronnie O'Sullivan in the last eight.
Hawkins was 5-2 up but a mistake on a re-spotted black allowed Walden to level the match before taking the win.
Robertson's win in the day's early game was a repeat of the scoreline from last year's Masters quarter-final meeting with fellow left-hander Allen.
Robertson, who was beaten in last year's final by Mark Selby, took advantage in the final frame when Allen ran out of position to record a decisive break to move into the last eight.
Robertson survived a bad contact on the blue during his 59 and said the conditions were far from ideal.
"When the arena is so hot the balls just spray off all over the place," the 31-year-old said. "We had to get the white changed because it was playing like a ping-pong ball.
"After the interval it got a bit better but it was hard work. But I'm really happy with that clearance there, especially with that kick off the blue."
Meanwhile world number six Hawkins raced 3-0 ahead in another intriguing encounter against Walden in which, despite further problems with the table, there was a break of at least 50 in the first eight frames.
Cueing cleanly, Hawkins had runs of 85, 57 and 132 in the opening three.
Walden was 52 points ahead in the fourth when he was another to suffer a dreadful contact on the blue, but having closed to within 11 points, Hawkins missed the brown and world number 10 Walden took the frame.
Aided by a fluke when a long red wriggled out of the jaws, along the top cushion and into the adjacent corner pocket, Hawkins recorded his second century of the contest with a 112 but Walden narrowed the gap to two frames with a clearance of 100.
The high breaks receded as the tension increased in the remaining frames, and the gap was only one when Walden won a re-spotted black that Hawkins left over the edge of the corner pocket, having overturned a 25-point deficit by potting the final five colours.
Frame 10 took 53 minutes and was eventually taken by Walden, who then seized on further mistakes from a deflated Hawkins to secure his first Masters quarter-final, completing victory in a match lasting over four hours.