Ronnie O'Sullivan fined for comments on Twitter
Last updated on .From the section Snooker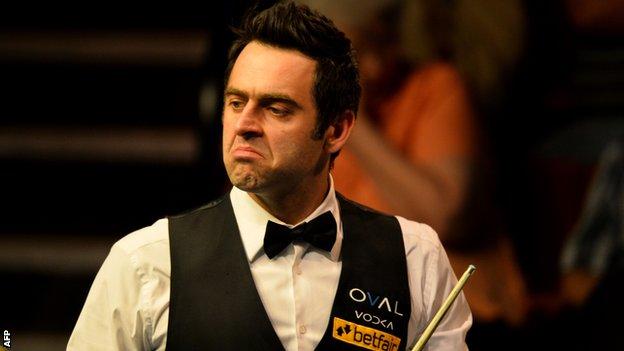 World snooker champion Ronnie O'Sullivan has been ordered to pay £8,000 over comments made on Twitter and to a senior referee.
O'Sullivan was fined £6,000 and ordered to pay £1,000 costs over three posts on the social media site.
The 38-year-old made match-fixing claims - later retracted - and suggested pills could improve his form and posted an offensive tweet.
He was also fined £1,000 for verbally insulting a senior referee in December.
Governing body World Snooker has also warned O'Sullivan about his future behaviour following that incident, which happened in Barnsley during qualification for the German Masters.
O'Sullivan, who won his fifth Masters title on Sunday, admitted the offence and later apologised, citing the hot conditions at the venue and that he felt unwell on the day.
He denied bringing the game into disrepute over the Twitter comments, made in September and October 2013, but was found to have breached the governing body's rules.
In a statement World Snooker said: "The WPBSA work hard to maintain what is widely considered to be one of the strongest anti-corruption units of any sport as well has having strong anti-doping policies which involve robust testing schedules.
"The WPBSA Disciplinary Committee considered that the comments that were made undermined these efforts and were damaging to the image of the sport. Such behaviour will not be tolerated."
It described the player's conduct to the referee as "abusive, insulting and disrespectful", adding: "There is no excuse for the actions of Mr O'Sullivan."