Mark Allen suffers defeat to Ali Carter at Welsh Open
Last updated on .From the section Snooker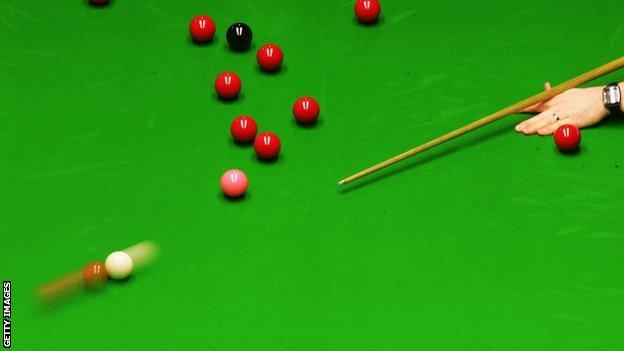 Mark Allen crashed out of the third round of the Welsh Open on Wednesday after a 4-2 defeat to Ali Carter.
Breaks of 53 and 50 saw the Antrim snooker player lead by two frames to one before Carter hit back with three frames without reply.
In a high quality match, breaks of 68, 94, 58 and 70 put Carter through to face Mark Selby in the next round.
Allen narrowly avoided a shock first round defeat to amateur Sydney Wilson before beating Noppon Saengkham.
Wednesday 26 February
Third round (best of 7 frames)
Results
Dominic Dale (Wal) 0-4 Mark Selby (Eng)
James Wattana (Tha) 1-4 Joel Walker (Eng)
Shaun Murphy (Eng) 3-4 Liang Wenbo (Chn)
Scott Donaldson (Sco) 4-3 Andrew Higginson (Eng)
Mark Allen (NI) 2-4 Allister Carter (Eng)
Matthew Stevens (Wal) 3-4 Joe Perry (Eng)
Neil Robertson (Aus) 3-4 Mark Williams (Wal)
Ricky Walden (Eng) 4-2 Anthony Hamilton (Eng)
Stuart Bingham (Eng) 4-2 Michael Holt (Eng)
Judd Trump (Eng) 4-1 Anthony McGill (Sco)
Xiao Guodong (Chn) 1-4 Ronnie O'Sullivan (Eng)
Scores
(All times GMT)
14:00
Graeme Dott (Sco) 2-3 Marco Fu (HK)
19:00
Jack Lisowski (Eng) v Barry Hawkins (Eng)
Mark King (Eng) v John Higgins (Sco)
Stephen Maguire (Sco) v Andrew Pagett (Wal)
Ben Woollaston (Eng) v Ding Junhui (Chn)
Tuesday 25 February
Second round results:
Graeme Dott (Sco) 4-3 Jamie Jones (Wal)
Fergal O'Brien (Ire) 0-4 Liang Wenbo (Chn)
Jamie Cope (Eng) 1-4 Ding Junhui (Chn)
Anthony Hamilton (Eng) 4-1 Li Hang (Chn)
Ben Woollaston (Eng) 4-1 Alfie Burden (Eng)
Mike Dunn (Eng) 3-4 Allister Carter (Eng)
Tian Pengfei (Chn) 0-4 Mark Williams (Wal)
Anthony McGill (Sco) 4-1 Ryan Day (Wal)
Neil Robertson (Aus) 4-0 Rory McLeod (Eng)
Shaun Murphy (Eng) 4-2 Craig Steadman (Eng)
Martin Gould (Eng) 1-4 Jack Lisowski (Eng)
Cao Yupeng (Chn) 3-4 Barry Hawkins (Eng)
Stuart Bingham (Eng) 4-2 Thepchaiya Un-Nooh (Tha)
Barry Pinches (Eng) 1-4 Ronnie O'Sullivan (Eng)
Ricky Walden (Eng) 4-2 Matthew Selt (Eng)
Mark King (Eng) 4-2 Alan McManus (Sco)
Monday 24 February
Second round results:
Dominic Dale (Wal) 4-1 Dechawat Poomjaeng (Tha)
Joel Walker (Eng) 4-3 Mark Davis (Eng)
Tom Ford (Eng) 2-4 James Wattana (Tha)
Stephen Maguire (Sco) 4-3 Sam Baird (Eng)
Mark Allen (NI) 4-2 Noppon Saengkham (Tha)
Scott Donaldson (Sco) 4-1 David Gilbert (Eng)
Jimmy Robertson (Eng) 3-4 Andrew Higginson (Eng)
Matthew Stevens (Wal) 4-2 Ian Burns (Eng)
Kurt Maflin (Nor) 1-4 Marco Fu (HK)
Liu Chuang (Chn) 0-4 Joe Perry (Eng)
Gerard Greene (NI) 3-4 Andrew Pagett (Wal)
Dave Harold (Eng) 1-4 Mark Selby (Eng)
Ken Doherty (Ire) 0-4 John Higgins (Sco)
Judd Trump (Eng) 4-1 Jamie Burnett (Sco)
Xiao Guodong (Chn) 4-3 Michael White (Wal)
Peter Lines (Eng) 2-4 Michael Holt (Eng)
First round
For first round scores please click here. (external site)