World Snooker 2014: Ken Doherty relishes time left in the sport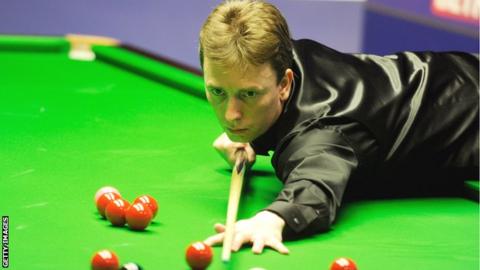 World Snooker Championship
Venue:

The Crucible, Sheffield

Dates:

19 April - 5 May

Coverage:

Watch live on BBC TV, Red Button, online, connected TVs, mobiles and tablets. Updates on BBC Radio 5 live
The list of fallers at the final couple of qualifying hurdles for snooker's World Championship reads like a who's who of the sport's great and good.
Six-time former world champion Steve Davis and fellow ex-winners Mark Williams and Graeme Dott will be absent when the first-round action gets going at the Crucible on Saturday morning - as will 2002 winner Peter Ebdon.
Plenty more famous names who would grace any tournament - including six-time finalist Jimmy White, and Matthew Stevens - will also be missing after failing to stay the course at Ponds Forge.
But one-man who will be proudly flying the flag for the 'old-timers' when the tournament proper begins is Irishman Ken Doherty - yet another former world champion.
And the 44-year-old BBC pundit is loving every minute of being the oldest competitor at this year's event.
"I am the oldest swinger in town," the world number 28 told BBC Sport. "It's a new one for me and it feels completely strange.
"I never thought it would happen to me but you have to embrace it. I don't mind as long as I am there. I love the game and I love playing.
"I will be so excited. I might be the oldest player in the tournament but my mindset will make me feel like the youngest player because I will feel like a teenager again. I will enjoy every minute of it."
The absence of Dott and Williams was not expected but with only the top 16 guaranteed a place in the first round, it meant many of the world's best were vulnerable.
Doherty, the 1997 world champion, believes the fact that the lower-ranked players can play themselves into form over one, two or three qualifying rounds at the more intimate Ponds Forge venue greatly boosts their chances of causing an upset.
"Coming in warm with a few matches under their belts helps," said Doherty, who beat the unpredictable and excitable Thai star Dechawat Poomjaeng in the final qualifying round. "I would still rather just play one match but even so it does tilt the balance.
"If Graeme Dott, Mark Williams and Matthew Stevens were playing these guys at the Crucible in the first round it might be a different result nine times out of 10. That's the difficulty of playing in these qualifiers.
"It is one of the most difficult matches you could play in your career - particularly for players who have enjoyed a lot of success.
"We have played a lot of tough matches but the pressure of wanting to play at the Crucible and the hunger and desire to be part of the tournament is huge.
"If you are not at the Crucible at the end of the season you will feel your season is not much worth talking about, so the pressure is magnified.
"It was great to get through but I could see the disappointment on the faces of a lot of guys who didn't."
So why put yourself through the stress and risk the heartache when many would be sat in a warm comfy commentary box or sat at home counting their medals?
Dubliner Doherty seriously considered quitting the sport not long after he first dropped out of the top 16.
But he soon rediscovered his passion for the sport.
"I thought if I kept playing as badly as I was at one stage, I could not carry on," he said. "But I found a new love for it and learned to cope with the defeats a little bit better. And the fact I have a baby boy now helps cushion the defeats.
"I relish and enjoy the time I have left in the game but I don't know how long that will be. My inspiration to play snooker was always Alex Higgins but now it is Jimmy White and Steve Davis.
"Jimmy was always a favourite of mine and Steve still has fantastic enthusiasm - probably the same as when he started off - and I want to follow in his footsteps as long as I can.
"I am not going to have any great ideas about how I will do but I will enjoy it and if 'Crafty Ken' can produce some of the old magic - or even some of the magic I produced in qualifying - then I will be a handful for anyone."