World Snooker Championship: Stephen Maguire relief after exit
Last updated on .From the section Snooker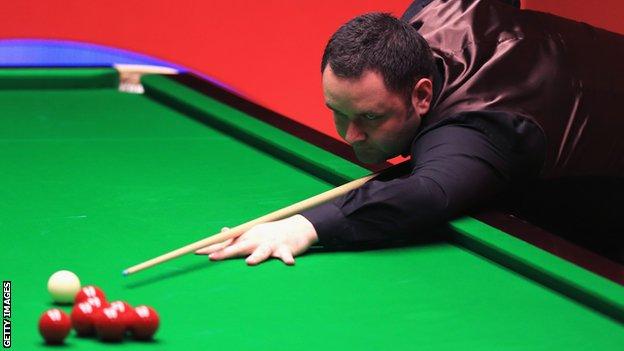 Stephen Maguire bowed out of the World Championship at the Crucible in Sheffield saying he is relieved that his nightmare snooker season is over.
The Scot lost 10-9 despite fighting back from 9-6 down to force a 19th-frame decider against Ryan Day.
"I am actually glad this season's finished," world number nine Maguire told BBC Sport. "It has been a season from hell for me.
"I just want to forget it, but there's worse things in life."
Maguire insisted that a recent back injury had not hampered his performance against the world number 20.
"A couple of months ago, I was struggling, but the last two weeks, I've been perfect," he said. "It was nothing to do with that at all.
"If I look back on it, I lost it in the first session. If the session hadn't ended at 6-3, I would have lost 10-4.
"I was somewhere else. Being the next day, it gave myself a chance to fight back, which obviously I did."
It looked like Maguire might complete his comeback to claim victory but expressed frustration that it proved futile.
"I wish it had been 10-4, because I could be in the pub earlier," he joked.
"Obviously I am going to fight to the death - it's the World Championship - and, when it went to the decider, obviously I thought I was favourite and, if I got a chance, I would do it, but I never and I can't grumble.
"I had a chance in the last frame but never done it and that was it.
"You hope for one chance, I got it and never did it and Ryan made a good break."
Maguire lost in the Masters semi-finals to Ronnie O'Sullivan but failed to reach the quarter-finals in the German Masters, Welsh Open, World Open, Players Championship Grand Final or China Open.